Mishra gets 14-day judicial remand
Dehradun, May 5
Former Chief Engineer of Uttar Pradesh Industrial Development Corporation Arun Kumar Mishra was sent to a 14-day judical remand by a CBI Court today.
Patwari held on charge of accepting bribe
Dehradun, May 5
A patwari of the Revenue Department was nabbed by officials of the Vigilance Department, for allegedly accepting a bribe of Rs 5,000 here today.
Number of patients undergoing ultrasound, CT scan
Doctors prefer MRI
Dehradun, May 5
Shortage of a radiologist at the Doon Hospital and preference of doctors for a more refined diagnostic tool like the Magnetic Resonance Imaging (MRI) has reduced the number of patients advised to undergo ultrasound or even CT Scan for their ailments.
Shiv Sena seeks job avenues for state youth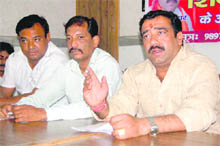 Dehradun, May 5
To stem the migration of youths from the state to other parts of the country, the Shiv Sena cadre here today demanded job avenues for them at their hometown or grant them with a regular unemployment allowance.


Gaurav Kumar (right), president of the state unit of the Shiv Sena, addresses a press conference in Dehradun on Thursday. A Tribune photograph

Mahasangh members express concern
Dehradun, May 5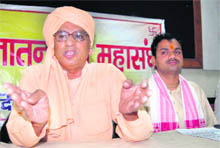 Members of Sanatan Dharam Mahasangh today expressed their concern and resentment over increase in the trend of fake persons running business in the name of babas and sants. "Sant samaj needs to identify these persons as soon as possible; then only we can maintain our dignity," national president of the Mahasangh, Rajyogi Mahant, Rakeshnath Ji Maharaj told the media.

Rajyogi Mahant Rakeshnathji Maharaj, national president of the Sanatan Dharam Mahasangh, addresses mediapersons in Dehradun on Thursday. A Tribune photograph

College student arrested
Dehradun, May 5
A college student who was allegedly involved in the gang-rape of a tenth standard student was nabbed near the ISBT this morning.The police said Javad planned to leave the city today and the police had prior information regarding this. The police acted after the family and relatives had mounted pressure on it yesterday. They had given a 48-hour deadline to the cops, threatening they would commit suicide if the student was not arrested.
IRDE beat FRI by 7 wickets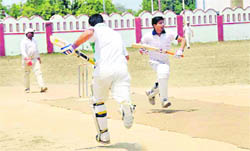 Dehradun, May 5
Instruments Research and Development Establishment (IRDE) today got the better of Forest Research Institute (FRI) by seven wickets to enter the semifinals of the ongoing Central Government Employees' Welfare Committee Cricket Tournament under way at the Survey of India cricket stadium here.

Bastmen cross over for a run in a match in the Central Government Employees Welfare Committee Cricket Tournament in Dehradun on Thursday. A Tribune photograph

Inter-section hockey at RIMC
Dehradun, May 5
In the inter-section hockey at the Rashtriya Indian Military College (RIMC), a total of four matches were played here today.The first match was between Pratap section and Shivaji section (juniors). Pratap section won with a score of 4-0. The first goal was scored by cadet Hardaman followed by cadet Salman and then cadets Nelson and Aditya.
Chamoli for observing Oct 3 as 'Martyrs Day'
Dehradun, May 5
Dehradun Mayor Vinod Chamoli said today that the government should declare October 3 a holiday and observe the day as "Martyrs' Day". "Many people sacrificed their lives during the statehood agitation and to give them respect the government should organise a "Shahidi Mela" on the premises of the Collectorate office where the Shahidi Samarak Bhawan is located.
Basketball: Welham Girls beat Pinegrove
Dehradun, May 5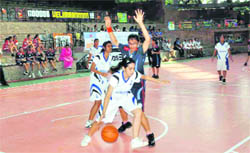 Welham Girls' School (Whites) drubbed Pinegrove School (PGS), Sabatu,36-14 in the 5th Welham Girls' School Golden Jubilee All-India Basketball Tournament here today.Sanchita topscored with 19 points to put her team at the winning stage while Gurnika (seven points) mainly scored for the losing side. Welhamwon the quarters 14-11, 17-0, 3-2, 2-1.

Players in action in a match in the Welham Girls' School Jubilee All-India Basketball Tournament in Dehradun on Thursday. A Tribune photograph