Many more such tragedies waiting to happen
Dehradun, May 6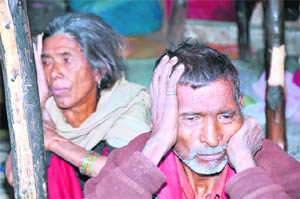 Had the family of Haffi Ram paid heed to an appeal of the administration, his family would have been saved. After some mild action against the dwellers of such illegal slums, the administration and the Municipal Corporation turn a blind eye to the risk the slum dwellers run living in such precarious places.


The grieving parents of victim Haffi Ram. A Tribune photograph

'Model UN' encourages students to research political positions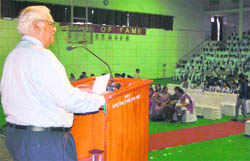 Dehradun, May 6
Under the aegis of the UNESCO, Welham Boys' School, Dehradun, has organised a three-day seminar-cum-competition titled "Model United Nations"(MUN), a simulation programme of the UN activities, here today.

Amitava Tripathi, Ambassador to Switzerland, addresses students at Welham Boys' School in Dehradun on Friday. A Tribune photograph

Family wants road named after Tejpal
Dehradun, May 6
Family of pilot Tejpal Singh Mamik, who died along with Arunachal Pradesh Chief Minister Dorjee Khandu, in a chopper crash, has demanded that the road from Race Course to Arha Ghar Chowk be named after Tejpal.
Boost for modernisation of madrasas in state
Dehradun, May 6
The modernisation of madrasas in the state is expected to get a boost with the Central Government releasing Rs 1.66 crore under the Scheme for Providing Quality Education for Madrasas (SPQEM) of the Ministry of Human Resource and Development (HRD).
US respects its citizens: Bhagat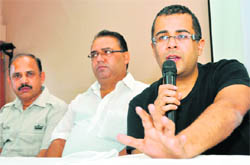 Dehradun, May 6
India has a lot to learn from the US that killed Osama bin Laden in a ground operation at Abbottabad, Pakistan, on May 2, said renowned writer Chetan Bhagat who is in Dehradun to attend a seminar at a school.


Chetan Bhagat addresses mediapersons in Dehradun on Friday. A Tribune photograph
Students made aware of RTI Act

Dehradun, May 6
As part of its ongoing Right to Information campaign, the teams of I-care simultaneously conducted the second leg of the campaign at Touchwood School and Doon International School here today.Speaking on the occasion, Meenakshi Saxena, Principal of Touchwood School, said: "Most of the citizens of the country are not aware of the prevalent rights and laws

Students of Touchwood School who participated in the right to information campaign organised by I-care in Dehradun on Friday. A Tribune photograph
Scientists' society to educate kids in astronomy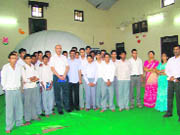 Dehradun, May 6
To educate children in astronomy and to create curiosity as well as awareness among them to seek knowledge about the sun, moon, stars and other planets, the Society of Pollution and Environmental Conservation Scientists (SPECS) started a campaign of mobile TARAMANDAL, here today.

Students of Hindu National Inter College with team members of the Society of Pollution and Environmental Conservation Scientists and the National Council of Communication on Science and Technology , New Delhi, at a programme in Dehradun on Friday. A Tribune photograph
ABVP begins drive for cleaner Doon valley
Dehradun, May 6 Members of the Akhil Bharatiya Vidyarthi Parishad (ABVP) have started a drive to make the Doon valley a cleaner place to live in. In this regard, the ABVP handed over a memorandum to the Dehradun District Magistrate in support of their demand here today. The parishad has laid stress on the beautification of Dehradun and demanded the enforcement of the ban on the pasting of posters and pamphlets on public property.
DAV Public School organises annual function
Dehradun, May 6
Students of DAV Public School, Dehradun, celebrated their annual function on the premises of the school here today.
Hockey at RIMC
Pratap section beat Shivaji section
Dehrdaun, May 6
In the inter-section hockey competition held at Rashtriya Indian Military College (RIMC) here, four matches were held today. The first match was between Pratap section and Shivaji section (Seniors). The match ended in a draw with the score 0-0 in the stipulated time. There was a penalty stroke in which Pratap won with a score of 4-3.
Roller skating championship
Dehradun, May 6
The 17th Doon District Inter-School Roller Skating Championship being organised by the Association of Roller Skating, Uttarakhand, will be held on May 7 and 8 at Summer Valley School here.