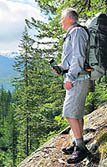 Old is bold
The thrill of adrenalin-pumping adventure is not just for the young, but also the old who're youthful in spirit. These senior adventure lovers may be late starters but it's better late than never, writes Mehak Uppal
THERE is a magic that creeps into our lives, unannounced, when we discover the fun activities that bring unbridled joy and thrill, especially at an age and stage when one is thought to be beyond the call of the wild. It must be because of this experience or exhilaration that people aged 50 and above get hooked on to adventure.
Just chill
Keep aside the harmful carbonated drinks as M. J. Raju lists our desi coolers to beat the summer heat
THERE has been a revival of interest in summer drinks and sherbets all over India, as the carbonated drink multinationals slowly retreat from their cola drinks. Both ayurveda and Unani medical sciences, our indigenous medical systems, have formulated drinks for summer and they have withstood the test of time.
Savour your golden years
If you have retired from service, keep your mind occupied and body active. Adopt a positive attitude and devote time to meditation, writes Preetinder Kaur
WHAT to do after retirement? A brain that is not challenged to learn new things for an extended period, will actually become smaller and less capable of learning in the future, according to Richard Stim, author of Retire Happy.
Wedding time, fun time
Indian weddings bring with them celebrations and customs full of frolic, says Dhanvanthi Keshavrao
IN India, weddings are an occasion rich with traditions. Weddings bring with them celebrations and customs full of fun. One strange tradition in Indian weddings is the stealing and hiding of the groom's shoes on the day of his wedding by the bride's sisters and cousins.
Sun, surf and spirituality
Pondicherry is a mesmerising mix of French and South Indian cultures, writes Aradhika Sharma
Pondicherry, or Puducherry, as it is now called, offers an irresistible cocktail of balmy seas, swaying palms, the exotic French-ness of the place, interesting cuisines, European architecture and an eclectic group of locals that comprise the Tamils as well as international communities.
'Big' hope for 'small' stars
Artiste Hiten Tejwani says times are good for TV actors eyeing films
WHEN Hiten Tejwani ventured into films with Joggers' Park in 2003, TV actors hardly worked for the big screen. But thanks to the growing confluence between the two media, coupled with realistic scripts suiting small budget projects, these are happy times for small screen stars, says the actor.
Lennon's handwritten Beatle song fetches £145k
JOHN Lennon's handwritten lyrics for Beatles' song 'Lucy In The Sky With Diamonds' has fetched a whopping £145,700 at auction. The sheet, complete with crossings-out, sparked a bidding frenzy at the sale of showbiz memorabilia in Los Angeles, reports the Daily Express.
Small wonders
With emphasis on content, storytelling technique and performances, small budget films are often more engrossing, writes Arpana
Beautifully told tales touching upon various human emotions hit the silver screen this year with movies like I AM, Chalo Dilli and Stanley Ka Dabba. But only a few did well as the audiences were either not aware or were hesitant about watching an unfamiliar cast or theme.
The other side of banking
Shoma A. Chatterji in conversation with Andrew Hinton, whose 12-minute documentary, Banking on Change, about a bank manager who motivated the very poor to open bank accounts, has been getting critical acclaim
CHANGE is the only thing that remains constant. But Andrew Hinton's 12-minute documentary Banking on Change proves that it is dynamic and keeps moving. Andrew is a Briton who came to India to make this wonderful film.