2 held with heroin worth Rs 62 lakh
Jalandhar, December 12
The special staff team of the city police today arrested two drug peddlers and recovered 125 grams of heroin from their possession. The value of the seized contraband is said to be over Rs 62 lakh in the international market.
Dream debut
Rahul Sharma does city proud; family elated

Jalandhar, December 12
A promising debut in Indore and a spectacular show by rookie leg-spinner Rahul Sharma in the India-West Indies series has surely given enough reason to his family and city residents to cheer.


A file picture of Rahul Sharma (in blue T shirt) with his family at his residence in Jalandhar. Tribune Photo: Malkiat Singh

No house tests today as lecturers go on strike
Jalandhar, December 12
It's good news for the students! No house tests would be held on December 13 and 14 as principals and lecturers of all colleges across the state would cease work for 72 hours from tomorrow onwards.
Pharmacists go on week-long mass leave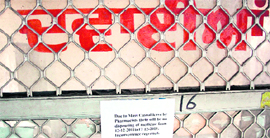 Jalandhar, December 12
Annoyed over the state government's "dilly-dallying" tactics in implementing the already implemented demands, the District Pharmacists' Association will be on a six-day collective leave from tomorrow.

A closed drug store at the Civil Hospital as pharmacists go on a week-long strike from Monday. Tribune Photo: Sarabjit Singh

SSA Scheme: Officials earn rap
Jalandhar, December 12
Taking a strong note of the poor utilisation of funds available for the children with special needs under the Sarv Sikhya Abhiyan, Divisional Commissioner Anurag Verma has directed eight Deputy Commissioners of the division to personally monitor its progress.
PIMS joins hands with WHO against drunken driving
Jalandhar December 12
Punjab Institute of Medical Sciences (PIMS) has joined hands with the World Health Organisation (WHO) and launched the campaign 'PIMS Against Drunken Driving (PADD)'.


Protest and food zone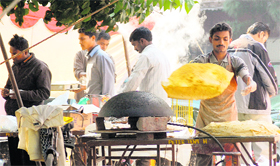 As the open space opposite the Administrative Complex becomes a protest spot, some agitators open food stalls to cater to their colleagues in Jalandhar. Tribune photo: malkiat Singh
National Sports fest for Women from Dec 17
Jalandhar, December 12
The Punjab Sports Department will organise 37th National Sports Festival for Women (Group-2) at Jalandhar from December 17 to 20 under the Panchayat Yuva Krida aur Khel Abhiyan (PYKKA) scheme.
Admn round-up: Change of guard shakes up many
Jalandhar, December 12
Year 2011 saw change of guard in several top administrative posts. Anurag Verma has taken over on the topmost bureaucratic rank of Divisional Commissioner. Ever since he has joined, he has held quite a few surprise checks following which he has pulled up tehsildars, naib tehsildars and other employees for dereliction from duties.
Road to Pakistan, a drug route?
Amritsar, December 12
Involvement of a truck driver who acted as a conduit to smuggle heroin and counterfeit currency from Pakistan through the Attari-Wagah check post and was nabbed by the Amritsar (Rural) police has put the security procedure of the Customs wing under scanner.
Farmer unions meet
Jalandhar December 12
The members of 17 farmers and labourers unions of the state today organised thanksgiving meetings at different places where they also honoured each others for pressurising the government for accepting their demands of waiving off electricity bills.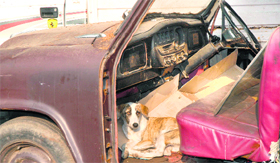 Mode of comfort:

A dog makes the optimum use of an abandoned vehicle in Jalandhar on Monday. Tribune photo: Malkiat Singh
Vet inspectors to go on protest
Jalandhar, December 12
Expressing resentment over the arrest of 132 veterinary inspectors and booking them Section 307 of the IPC, 1,800 state veterinary inspectors along with their family members and other social organisations would launch a protest in Malaut, where the arrested inspectors would be brought for hearing in the court, on December 17.
Recruitment rally at Ramgarh cantt from Dec 21
Jalandhar, December 12
The Sikh Regimental Centre Ramgarh Cantonment (Jharkhand) would organise a recruitment rally for the sons of servicemen/ex-servicemen/widows/war widows for the enrolment of Soldier General Duty at Ramgarh cantonment from December 21.
Football players honoured
Jalandhar, December 12
Harmeet Kaur and Mandeep Kaur, both students of Ramgarhia College of Education, Phagwara, were honoured by the college council for having been selected in the Guru Nanak Dev University football team. Harmeet Kaur would be the captain of the team.