Centre's expert panel clears Kudankulam N-power plant
Tirunelveli (TN), January 31
Blaming the anti-nuclear activists for the continuing impasse over the Kudankulam power plant, the Central expert committee set up to allay the fears of the people today said it had conclusively addressed all safety aspects and made it clear it was not in a position to hold further talks.

Punjab voter turnout rises to 78.6%
EC orders repoll at one Amritsar booth
Chandigarh, January 31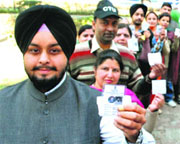 The Election Commission today revised the voter turnout in yesterday's Punjab Assembly election by 2% to 78.67% even as it ordered a repoll in booth number 76 of Amritsar (East) constituency. The EC had till last evening put the estimated polling at 76.63%. Even today, Chief Election Officer Kusumjit Sidhu said the figures could change.
Age Row
Antony blames Army, Gen Singh agrees
New Delhi, January 31
Just days ahead of the Supreme Court hearing on the petition filed by Army Chief General VK Singh, who is seeking a correction in his date of birth, Defence Minister AK Antony today squarely blamed the Army for the whole mess. The General agreed with him and said the administrative branch of the Army is responsible for his age row.