23,000 turn up at recruitment rally
Out of these, as many as 1,500-1,800 candidates will be inducted into the Army
Tribune News Service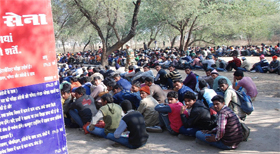 Candidates wait for their turn during an Army recruitment rally held in the Bathinda cantonment area. Tribune photos: Pawan Sharma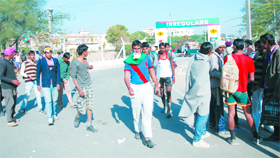 Candidates leave the Cantonment area after appearing for the physical test for the recruitment drive. Tribune photos: Pawan Sharma
Bathinda, February 4
23,000 candidates were screened during the army recruitment drive, organised by the Army Recruiting Office, Ferozepur at the cantonment area on Bathinda-Barnala road.
The drive was launched on February 2 and would continue till February 7. Candidates from Faridkot, Muktsar, Bathinda, Ferozepur and Fazilka are participating in the recruitment drive.
Out of the 23,000 candidates who appeared for the screening, 1,500 to 1,800 candidates will be inducted in the army after the physical, written, and the medical examinations of the participants.
Candidates with high qualifications from far off places have undergone the recruitment drive to serve the nation and get a permanent job in the Indian Army.
Colonel Sanjeev Sirohi, director (states) on behalf of brigadier Vinod Raizada, deputy director general, recruiting (Punjab and J&K) said the successful candidates are undergoing medical examination.
After the medical examination the candidates would further undergo written examination and will finally undergo a training before being inducted into the army.
He said the screening process consists of verification of documents, putting the candidates through physical tests which include 1.6 kilometre run, pull ups, balance beam and crossing a 9 feet ditch. The candidates who clear these tests are further put through physical measurements for height, weight and chest. Those who managed to clear the physical examination then under medical examination by a team of doctors. The medically-fit candidates will appear for Common Entrance Examination (CEE). The CEE will be held at the camping ground site at Bathinda Military Station on February 26.
Colonel Arindam Mazumdar, supervising the recruitment procedure said that the successful candidates will be inducted into various arms and services of the army.
The efforts will go a long way in meeting the aspirations of youth of the area who wish to join the army and serve the nation, he said.
He said the overall physical standards of youth from Punjab, especially from the urban areas has fallen down. He however pointed out that the response of the local youth has been very encouraging.
He said the recruitment rally is being organised by the headquarters Recruiting Zone, Jalandhar.
Headquarter 81 sub-area provided the ground, liaison manpower, transport, accommodation, security, preparation of the ground with civil authorities.
The army authorities have appreciated the district administration for providing arrangements for water, shelter and sanitation.
Brigadier Vinod Raizada said he expressed satisfaction and deep gratitude towards brigadier AK Sanyal, commander of 81 sub-area and Bathinda deputy commissioner Kamal Kishore Yadav for their help in conducting the recruitment drive.