GNDU students to prepare drawings, sketches of historic Gurdwaras
Archit Watts/TNS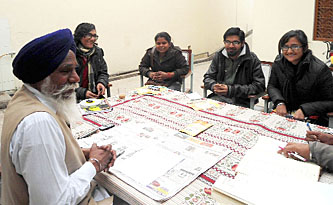 Architecture students of Guru Nanak Dev University, Amritsar, with a member of the management of the Gurdwara Sri Darbar Sahib in Muktsar. Photo by writer

Muktsar, February 15
The department of architecture, Guru Nanak Dev University (GNDU), Amritsar, as part of its syllabus of integrated degree course in architecture, has sent seven teams of its students to compile the drawings and sketches of a number of historic gurdwaras in Punjab for academic purposes, which would be further used in disseminating awareness about the Sikh architecture.
"So far, there is only one book about the architecture of Gurdwaras that was published in 1980s by noted artist PS Arshi. After that, there is no fresh documentation of any historic Gurdwara except the Golden Temple, either with the SGPC or any other institute. So, we told our students to go and compile the drawings, photos, sketches and concept of the architecture of the concerned buildings," informed Karamjit Singh Chahal, head of the department of architecture, GNDU, while talking over the phone.
"Each team comprises four students, which will submit its report within a month. After verifying the facts, we will publish a booklet which will prove beneficial for those having faith in Sikh religion and interested in architecture. The final report will also be submitted to the SGPC," he added.
Giving further details, he said that the teams had gone to prepare the drawings of all historic Gurdwaras in Muktsar, Amritsar, Talwandi Sabo, Anandpur Sahib, Goindwal, Khadur Sahib and Tarn Taran.
Meanwhile, a team of four students namely Ankush Kalia, Mohit Saini, Sonkashi Kohli and Pradeepta Bhushan reached the historic Gurdwara Sri Darbar Sahib in Muktsar to start their work.
They informed that the work was part of their five-year course, as they had opted for Sikh architecture as their subject.
"After Operation Bluestar in 1984, a number of Gurdwaras were re-built and expanded with the passage of time. And there is no documentation many historic Gurdwaras. So, we are doing this work, which is part of our project assigned by the university," said Ankush Kalia, a student.
Karan Singh, manager of the Gurdwara Sri Darbar Sahib, Muktsar, appreciated the step taken by the university authorities and its students.
"This documentation will definitely prove beneficial in the construction of more Gurdwaras. So far, we have only the pictures of buildings but not the drawings or sketches of the Gurdwaras. So, with the project report of these students, we will be able to get the drawings, which will be kept in the records for further construction or for publication in the books related to Sikh history and religion," he said.