Sonia to finalise Prez candidate


Sonia lashes out at Team Anna, defends PM


Soon, smart cards for ration distribution in Punjab
Chandigarh, June 4
All 60 lakh ration cardholders in Punjab will have smart cards for the purchase of essential commodities from fair price shops within six months. An exercise that aims at end-to-end computerisation of the public distribution system in the state has already been started.
What experts want Sachin to bat for as MP in Rajya Sabha
Chandigarh, June 4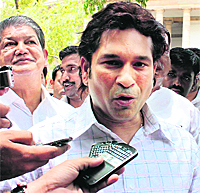 The ways of God are mysterious but Sachin Tendulkar, the man turned into god by cricket's fans, is quite overt about what he wants to do in the Rajya Sabha. After being sworn in as an MP, Tendulkar said while cricket comes first, he has not taken his eye off the less fortunate, less popular "other sports".
Sachin Tendulkar talks to mediapersons after taking oath as MP in Rajya Sabha. Tribune photo: Mukesh Aggarwal