Guide to best colleges

Results of Punjab Assembly Polls 2012


THE TRIBUNE DEBATE: NCTC

Army Chief's Age Row

2011: THE YEAR OF UPRISINGS

Punjab Public Transport, an investigation

WORLD CUP 2011: CRICKET SPECIAL

Turbans

EARLIER FEATURES



PM eases land transfer norms to speed up infra projects
New Delhi, August 2
Infrastructure projects are likely to pick up speed significantly as Prime Minister Manmohan Singh today cleared relaxations in land transfer policy for government- owned lands.
Pune blasts a coordinated act: Home Ministry
Mumbai/New Delhi, August 2
The Ministry of Home Affairs today described the near-simultaneous explosions in Pune yesterday as a planned and coordinated act.

Rain deficit: Badal seeks Rs 2,380-crore aid from Centre
Demands PM's immediate intervention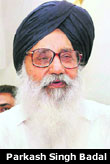 Chandigarh, August 2
Punjab Chief Minister Parkash Singh Badal on Thursday sought a Rs 2,380-crore special package from the Centre for the state's farming community that is reeling under one of the worst monsoon failures in recent history. Seeking Prime Minister Manmohan Singh's "urgent, immediate and effective intervention" for providing relief to the state, Badal said Punjab farmers were facing a crisis of frightening magnitude and were making massive investments to save their paddy crop.
Govt nod to FDI from Pakistan
August 2, 2012
Day 2: India gasps for power
August 1, 2012
North knocked out for 12 hours
July 31, 2012
Poor monsoon will add to economic woes, says industry
July 30, 2012
PM announces relief for Assam riot-hit
July 29, 2012
DNA test out, confirms Rohit is Tiwari's son
July 28, 2012
With 73% rainfall deficit, Haryana stares at drought
July 27, 2012
President Pranab takes charge
July 26, 2012
Assam struggles to control deadly riots; 11 more killed
July 25, 2012
NCP puts off plans to pull out of UPA govt, for now
July 24, 2012
Pranab is President
July 23, 2012