Guide to best colleges

Results of Punjab Assembly Polls 2012


THE TRIBUNE DEBATE: NCTC

Army Chief's Age Row

2011: THE YEAR OF UPRISINGS

Punjab Public Transport, an investigation

WORLD CUP 2011: CRICKET SPECIAL

Turbans

EARLIER FEATURES

Assam backlash rumours hit Karnataka, hundreds flee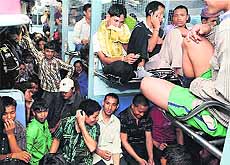 Bangalore, August 16
A day after the country celebrated its 66th Independence Day, the spectre of violence on ethnic and communal lines returned to haunt the people.

People of North-Eastern states sitting in an Assam-bound train. — PTI

Fresh violence erupts in Assam
Guwahati, August 16
Assam Chief Minister Tarun Gogoi today blamed it on rumour mongering over recent violence in the state that created panic among students and people from Assam and other parts of N-E living in southern states and Maharashtra.


(Editorial Page): Assam's ominous fallout
From 2013, common entrance test for all 41 central varsities
New Delhi, August 16
From the next academic session, admissions to all central universities like the University of Delhi, Jawaharlal Nehru University, Jamia Millia Islamia and the ones located in states will be held through a common entrance test.
(Details on NATION page)
Remarks against judiciary
HC admits pleas against Mamata
Kolkata, August 16
Two separate petitions filed by two groups of lawyers were admitted to the Calcutta High Court today against West Bengal Chief Minister Mamata Banerjee for defaming and denigrating the country's judicial system.
BJP, NDA partners' support to Ramdev worries Cong
August 15, 2012
Ramdev takes govt head-on; held on way to Parliament
August 14, 2012
Silver for sushil makes it A super Six
August 13, 2012
52 die in Chamba bus mishap
August 12, 2012
Punjab, Haryana farmers battling dry spell to get direct Central aid
August 11, 2012
Court rejects Kanda's bail plea, raids continue on his premises
August 10, 2012
Aggressive Sonia spurs Cong, forces Advani on back foot
August 9, 2012
Second term for Ansari as Vice-Prez
August 8, 2012
Gurdwara shooter identified, was ex-soldier of US army
August 7, 2012
Firing in US gurdwara packed with devotees; 7 dead, 20 hurt
August 6, 2012