Guide to best colleges

Results of Punjab Assembly Polls 2012

EARLIER FEATURES

Maya to take call on support to UPA today
Lucknow, October 9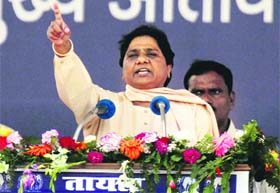 Attacking the UPA government for its "anti-people" decisions, BSP supremo Mayawati today said her party would take a final call tomorrow on whether to continue its outside support to the Centre.
HEROIN SEIZURE
Train took 'unusually' long to reach Amritsar
Amritsar, October 9
Even as the customs authorities are tight-lipped about any breakthrough in yesterday's seizure of 105 kg heroin in rail cargo from Pakistan, it has come to light that the goods train from which the seizure was made took around four hours to traverse the 25-km distance between Attari and Amritsar.



Punjab page: Traders seek probe by Central agency

Tiger tourism ban to continue, for now
New Delhi, October 9
The Supreme Court today permitted the Centre to notify within a week its fresh guidelines for tiger conservation and regulating tiger tourism.


Special to the tribune
UK Sikhs divided over attack on Lt Gen Brar
While the British Police continues their efforts to round up all those involved in the knifing of Lt Gen KS Brar, discussion in Southall is dominated by questions about the real motives of those behind the attack.
No need for Parliament to clear retail FDI: PC
October 9, 2012
Rethink Bluestar memorial: Shinde
October 8, 2012
Chargesheet filed against Kanda in Geetika case
October 7, 2012
12 arrested in London for attack on Lt Gen Brar
October 6, 2012
UPA rolls reform ball again
October 5, 2012
HP polls on November 4, Gujarat on December 13, 17
October 4, 2012
Team Kejriwal makes its formal entry into politics
October 3, 2012
Op Bluestar architect attacked in London
October 2, 2012
Pay more for AC train travel from today
October 1, 2012
UPA for executive order to ensure food security
September 30, 2012