PUNJAB

HARYANA

JAMMU & KASHMIR

HIMACHAL

REGIONAL BRIEFS

NATION

OPINIONS

LETTERS

BUSINESS

SPORTS

WORLD


Garbage burning at Company Bagh still on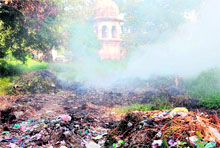 Amritsar, October 21
Even as Deputy Chief Minister Sukhbir Badal intends to transform Amritsar into a heritage-look city, the holy city's heritage sites have been turning into garbage yards.
The burnt garbage at the historic Company Bagh in Amritsar speaks volumes about the apathy of the authorities. Photo: Vishal Kumar
Seven booked in two dowry cases in city
Amritsar, October 21
The city police has booked seven persons, including an NRI family, in two separate dowry cases registered in the past 24 hours.
Terrorism-hit police families await relief
Amritsar, October 21
She lost her father to terrorism even before she was born. After the second marriage of her mother, she was brought up by her grandmother with a lot of pain and with a meagre monthly pension of Rs 2500.
| | |
| --- | --- |
| | Kin of policemen who were killed during the days of terrorism pay their tributes to them on Police Commemoration Day in Amritsar on Sunday. Photo: Vishal Kumar |
Wait continues for Bhaktanwala residents
October 21, 2012
29 suspected dengue cases in district
October 20, 2012
4 dengue cases confirmed in city
October 19, 2012
Mafia continues sand excavation
October 18, 2012
With Navratras, festivities begin
October 17, 2012
Rain brings chill in city
October 16, 2012
Mayor tells MC officials to pull up socks
October 15, 2012
Tough time for visitors to Golden Temple
October 14, 2012
Farmers vent ire against land mafia
October 13, 2012
Amritsar to be made world-class city
October 12, 2012
Head constable suspended
October 11, 2012
Married woman commits suicide
October 10, 2012