Death toll nears 100 in Israel's Gaza offensive
UN chief calls for immediate ceasefire
Gaza City, November 19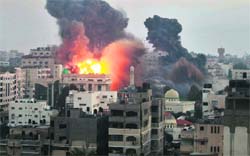 Israel bombarded as many as 80 locations in the narrow Gaza enclave overnight, flattening Gaza's police headquarters and taking the Palestinian death toll to nearly 100 in six days of onslaught.
Smoke and explosion are seen after Israeli air strikes in Gaza City on Monday. — Reuters
Jindal's copter makes emergency landing
Chandigarh, November 19
A major tragedy was averted when an airborne private helicopter carrying Kurukshetra Member of Parliament Naveen Jindal developed a technical snag and had to make an emergency landing at Chandigarh airport at 5.32 pm today. The emergency landing led to the cancellation of three outbound flights - JetLite, SpiceJet and GoAir - thereby inconveniencing hundreds of passengers.
Ponty's killing: Two held, third FIR lodged
New Delhi, November 19
The Delhi Police today said Ponty Chadha's attempt to seize the property in possession of his younger brother Hardeep Chadha led to the bloody gunbattle at their Chattarpur farmhouse on Saturday. The police has arrested two persons — Madan Rana and Vijay, alias Malik — in connection with a firing incident on November 17 at another property of the Chadha family at southwest Bijwasan and registered a third FIR on charges of firing and trespass at Bijwasan, said Joint Commissioner of Police (South-Western Range) Vivek Gogia.