The tribune 130 years
a witness to history
book released by prime minister manmohan singh

Guide to best colleges

Results of Punjab Assembly Polls 2012

EARLIER FEATURES


Cauvery talks fail, no more water for TN
Bangalore, November 29
The meeting between Tamil Nadu Chief Minister J Jayalalithaa and her Karnataka counterpart Jagadish Shettar on the sharing of Cauvery waters sharing failed to produce any result.
Namdhari booked for Hardeepís murder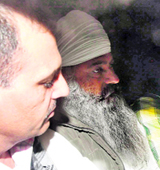 New Delhi, November 29
Sukhdev Namdhari, sacked chief of minorities commission of Uttarakhand, has been booked under the charges of murder, the Delhi police informed a local court here today. Namdhariís police custody has been extended by three days.

Sukhdev Namdhari in a Delhi court on Thursday.

Govt issues new norms to prevent IT Act misuse
New Delhi, November 29
Facing public uproar over arrests made under Section 66 (A) of the IT Act in Maharashtra recently, the government today said that it would be focusing more on the Section and has also issued guidelines for its appropriate use. Section 66 (A) provides for a jail term of up to three years.



SC admits plea to amend Act
End to House logjam over FDI in sight
November 29, 2012
DMK on board, govt ready for vote on FDI
November 28, 2012
All-party meet fails to end FDI logjam
November 27, 2012
Govt hopes to bring allies on board to end FDI standoff
November 26, 2012
Cash transfer of subsidies in 51 districts begins on Jan 1
November 25, 2012
FDI paralyses Parliament on Day 2
November 24, 2012
Stormy start to winter session
November 23, 2012
26/11 attacker KASAB Hanged
November 22, 2012
Oppn divided over no-trust vote
November 21, 2012
Govt unfazed by no-trust move
November 20, 2012