Two-third railway crossings unmanned in Doaba region
Dharmendra Joshi
Tribune News Service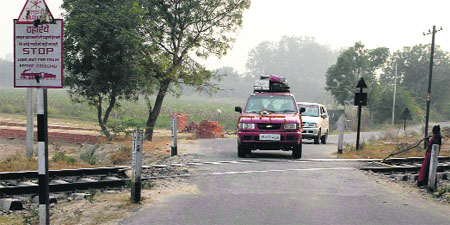 An unmanned railway crossing in Jalandhar. Tribune photo: Malkiat Singh
Jalandhar, December 10
Mishaps at unmanned railway crossings in Punjab have become a routine. The recent collision at an unmanned railway crossing in Dasuya of Hoshiarpur district is not an isolated case, such accidents happen every now and then. Thanks to a large number of railway crossings remaining unmanned in the state.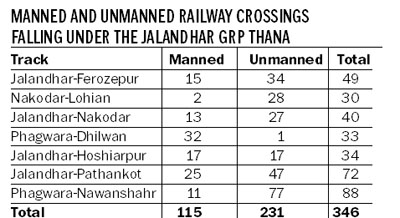 According to information gathered by The Tribune, two-third of the total railway crossings are unmanned in the Doaba region of the state alone.
Though luckily no major mishap has taken place here in the recent past, yet about 575 persons have lost their lives in the past three years on unmanned railway crossings in Jalandhar, Hoshiarpur, Kapurthala and Nawanshahr of the Doaba region, falling under the Jalandhar Government Railway Police (GRP) thana.
While about 45 persons lost their lives in various mishaps on unmanned railway crossings till now this year, 261 and 228 persons were killed in mishaps on these unmanned crossings in 2011 and 2010, respectively. Thanks to the Railways, which has left over two-third crossings as unmanned in the region.
As many as 231, out of total 346 crossings, falling under the jurisdiction of the Jalandhar GRP thana are unmanned. The majority of such unmanned crossings are located on the branch lines of Jalandhar-Ferozepur, Nakodar-Lohian, Jalandhar-Nakodar, Phagwara-Dhilwan, Jalandhar-Hoshiarpur, Jalandhar-Pathankot, Phagwara-Nawanshahr routes. However almost all the crossings on the main lines of Amritsar-Ambala and Jammu-Ambala routes are manned as two unmanned crossings located between the Chugitti and Suchi Pind railway stations on the Jammu-Jalandhar track have been made manned ones recently.
A mishap in September last year at an unmanned railway crossing at Mouwal village claimed lives of three children, whereas two persons were killed and a man sustained serious injuries in a collision between a tractor-trailer and the Ahmedabad-bound Jammu Tawi train at an unmanned railway crossing near Khojewal village on the outskirts of the city on September 7 last year.
Most of these persons were killed due to negligence of the drivers of the vehicles they were travelling in as these vehicles collided with running trains at unmanned railway crossings. However, some of them were crushed under trains due to their own negligence while trying to cross the track on foot unaware of the approaching train. An aged person Mohinder Pal of the Tahli Sahib locality had lost his life while trying to cross the Jalandhar-Amritsar track between Suranussi and Kartarpur while going to fetch milk from his house, when instantly two trains were passing that area. Probably, he could not notice the second train approaching there.
Demanding immediate manning of the unmanned crossings, a social activist, Arun Sharma Pappu, said, "Majority of the accidents taken place on such crossings occurred with school vans or buses due to negligence of their drivers as they were found using their mobile phones while driving. The use of mobile phones by the drivers of school buses and vans should be strictly banned by the authorities concerned to avoid recurrence of such incidents."
Meanwhile, a GRP official said, "The GRP has already sent a recommendation to Central Government for manning these railway crossings. A list of sensitive unmanned crossings is also being prepared."
The GRP official said, "GRP men are also holding meetings with various school bus drivers and representatives of villages to spread awareness among them to cross unmanned crossings only after watching both the sides of the track. Further they are also being educated not to use mobile phones while driving, especially at the time of passing over unmanned crossings."
Meanwhile, a Northern Railway spokesperson said "There is already a proposal to man unmanned railway crossings, but it would be done in a phased manner due to shortage of funds."