11-point agenda put forth at MC board meeting
Haridwar, May 23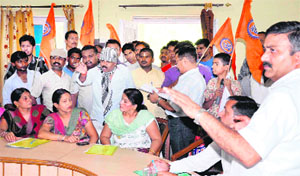 The second board meeting of the Municipal Corporation took place today at Mayapur, in which agenda for the future course of things was put in place. An 11-point agenda was put forth that included cleaning of nullahs, increasing taxes to up the revenue earnings of the corporation, specific hoarding policy as per directives of the apex court
Mayor Manoj Garg tries to pacify activists of the Vishwa Hindu Parishad at the second board meeting of the Municipal Corporation on the encroachment issue in Haridwar on Thursday. Tribune photo: Rameshwar Gaur

Extensive plucking of Kaafal berries affects biodiversity
Mussoorie, May 23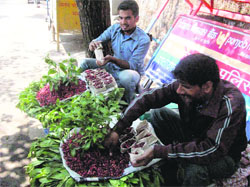 Extensive plucking of wild berries popularly known as Kaafal from the forest areas by locals for commercial use is adversely affecting the fragile biodiversity of the region in and around Mussoorie. Every summer with the ripening of Kaafals on trees around the forest area, near Khatta Pani, Landour Cantonment Board, the local population of street vendors go to the foothills to pluck the juicy crimson coloured berries that too free of cost and bring them back and sell at exorbitant price ranging from Rs 120 to Rs 130 per kg to tourists.

Street vendors sell wild berries, popularly known as Kaafal, at exorbitant prices in Mussoorie. A Tribune photograph

Meritorious students awarded at Cambridge school
Dehradun, May 23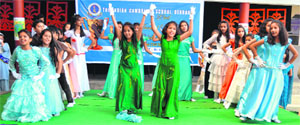 The Indian Cambridge School celebrated its 23rd prize day here today. Alok B Lal, a former state DGP, was the chief guest while Dr S Farooq, Director and Chairman, Indian Cambridge School, was the guest of honour.
Students perform at the Indian Cambidge School in Dehradun on Thursday.

Don't stall LPG supply to consumers: DM
Dehradun, May 23
District Magistrate BVRC Purushottam held a meeting with the District Supply Officer (DSO) and a manager of an oil and gas company and owners of gas agencies and distributors in his office yesterday. He gathered information about a news item published in some local dailies saying that consumers would get gas cylinders only when they produce Aadhar cards.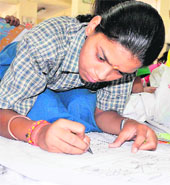 A girl participates in a poster-making competition organised by the Pollution Control Research Institute at BHEL in Haridwar on Thursday. Tribune photo:Rameshwar Gaur
PNB starts e-Lobby for Doon customers
Dehradun, May 23
MK Pangtey, field general manager, inaugurated Punjab National Bank's first e-Lobby in the Dehradun circle on Rajpur Road here today. The bank has provided a cash deposit machine, a cheque deposit machine, ATM, self-passbook printer and fund transfer facility through the Internet banking at this e-Lobby. The customers can enjoy these facilities 24x7 by operating these machines.
Prakash Divas of Guru Amar Das celebrated
Haridwar, May 23
The 534th Prakash Utsav of third Sikh Guru Amar Das was celebrated with gaiety in Haridwar today. Guru Amar Das had visited Kankhal 20 times before he become the third Sikh Guru and played a pivotal role in abolishing the Sati pratha in Haridwar at that time.
U'khand PCC for CBI probe into Delhi cop's killing
Dehradun, May 23 The state Congress today demanded a CBI probe into the alleged killing of Badrish Dutt, a Delhi police inspector from Uttarakhand, who had tapped phone conversations of cricketers and bookies in the IPL.
Complete 344 pending projects: DM
Dehradun, May 23
District Magistrate BVRC Purushottam yesterday held a meeting with the officials concerned with regard to the Sarv Shiksha Abhiyan, the Mid-day Meal Scheme in schools and the Right to Education. He directed them that all 344 development projects in the district pending since 2009-10 be completed.
Yuva Morcha holds procession against UPA govt
Dehradun, May 23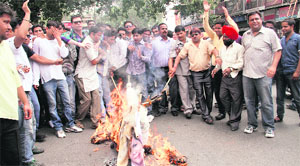 To highlight the ''failure'' of the UPA government, the BJP Yuva Morcha took out a death procession of the government under the leadership of the newly elected president of BJP Yuva Morcha Saurabh Thapliyal.

Members of the Bharatiya Janata Yuva Morcha burn an effigy of the Centre in Dehradun on Thursday. Tribune photo: Vinod Pundir

DIT varsity, Cambridge sign pact
Dehradun, May 23 A memorandum of understanding (MOU) between DIT University and Cambridge University Press was signed at DIT University here today. Kakoli Sarkar, on behalf of Cambridge University Press, and Capt Ajay Swarup (retd), Registrar, on behalf of DIT University, signed the MOU.