3 city students shine in NEET
Isha Sharma is first in the district, while Angad Mahajan and Rasika Gupta are second and third, respectively
Tribune News Service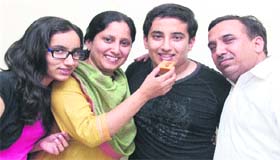 Angad Mahajan, who stood second in the NEET exam in the district, with his family in Jalandhar on Thursday. Tribune photo: Malkiat Singh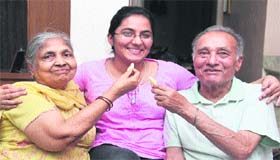 Rasika, who stood third in the NEET exam in the district, with her family in Jalandhar on Thursday. Tribune photo: Malkiat Singh
Jalandhar, June 6
Scoring a hat-trick this year, students of Apeejay School at Mahavir Marg here bagged the top positions in the district in the CBSE-NEET (UG), the results of which were declared last evening.
While Isha Sharma of the school bagged the 702nd position in the country, 49th in the state and first in the district, Angad Mahajan of the same school bagged the 90th position in the state and second in the district.
Rasika Gupta of Delhi Public School was third in the district, bagging the 93rd position in the state.
Isha Sharma, while talking to The Tribune, said while she had always been good at studies, she hadn't been an overall topper earlier.
"Though I worked really hard this time and was hoping for better marks, I am happy with what I have got," she said.
Isha's parents, father Professor Somnath Sharma and mother Professor Pardeep Sharma have been very supportive about her choice of the profession.
"Both encouraged me and gave me total independence to choose what I like and that is why I am here today," she said.
Isha also gives a lot of credit to her teachers Prof PP Singh, KK Sehgal, AN Mittal and TC Paul for her results.
While she says she was never a bookworm and believed in studying only to clear concepts, she now has her eyes set on becoming a neurosurgeon.
Angad Mahajan, who won the 90th rank in the state, bagging the second slot in the district, said right since his childhood, his aim had been to be a dentist.
Son of a dentist Neeraj Mahajan, Angad grew up watching his father, who also happens to be his role model.
Even though he might make it to MBBS, Angad says he will ultimately be choosing BDS and the reasons are not purely emotional. "I believe my temperament is suited to dentistry. I have grown up watching my father treat his patients and this is more ingrained in my system."
He also makes a special mention of his mother Ritu Mahajan, who was a constant support in his endeavours.
He is now looking forward to pursuing a specialisation in oral and cosmetic surgery.
Besides these students from Apeejay School, Ridhima Aggarwal bagged the 166th rank, Ruhani Sardana 202nd, Amuleek Kaur 362nd, Harshit Arora 415th , Priyanka Arora 793rd and Kunal Mahendru bagged the 977th rank in the state.
From MGN Public School, Adarsh Nagar, Umesh Aroa bagged the 125th rank in the state, Ravleen Kaur 366th, Aishav 370th, Prikshit 452nd, Karan Angad 455th (OBC), Anshul 601st, Shreya Chabra 700th and Harsimran Kaur (all from the same school) bagged the 1,367th rank in the state.
From Swami Sant Dass School, Jalandhar, Sakshi Malhotra got the 419th rank in the state and Paramjot Kaur 392nd.
Subir Babu from St Soldier Divine Public School, Kapurtahla Road, got the 208th rank in Punjab.