Retired police inspector commits suicide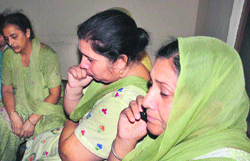 Amritsar, June 28
A retired police inspector, Jagir Singh, committed suicide by hanging himself from iron grills at his old residence in the Ganga Building area in Putlighar here late last evening. The police recovered a four-page suicide note from his pocket which blamed a CBI case pending against him, besides the "uncooperative" attitude of senior police officials for the extreme step.
The wailing relatives of Jagir Singh in Amritsar on Friday. Photo: Sameer Sehgal
Lure of foreign land makes gullible fall in trap of fake travel agents
Amritsar, June 28
Fake travel agents continue to fleece unemployed youths who are looking for greener pastures in foreign shores. The recent incident in which the Amritsar (rural police) busted a gang of swindlers in Amritsar and Gurdaspur rural belts for sending them to Singapore on work permit is a clear pointer on how unscrupulous elements in society are cashing in on the lure of foreign land among the rural people.
2 snatching incidents in city
Amritsar, June 28
Two snatching incidents by motorcycle-borne youths were reported in the city during the past 24 hours. One of the victims, Jaswinder Kaur, belonged to Panchkula, while the other Harpreet Kaur hailed from the Shaheed Udham Singh Nagar here. Both incidents occurred on the 100-feet road, falling under the B-division police station.
Cops clueless about culprits in Golden Temple abduction case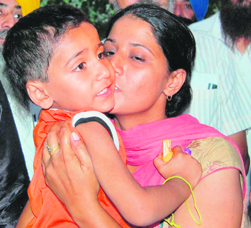 Amritsar, June 28
Even as over three weeks have lapsed, the city police is still clueless about the culprits who were involved in the kidnapping of a three-year-old boy from the Golden Temple premises. The police today released the photographs of the accused who was involved in the kidnapping that took place on the intervening night of June 7-8. The boy, Gurmilap Singh, was abandoned by the suspects at a toy shop near Gurdwara Shaheed Baba Deep Singh the next day.
Gurmilap with his mother after he was found abandoned near a gurdwara in Amritsar. A file Photo

Railways' properties decaying for want of care
Amritsar, June 28
Many buildings and residential complexes owned by the Railways which are worth crores of rupees have been decaying here, courtesy an apathetic approach and absence of planning by officials. The Railway Colony B-block situated near Islamabad area is awaiting renovation for the past many years.


Houses at the Railway Colony B-Block in Amritsar. Photos: Sameer Sehgal
Family of suicide victim meets Joshi
Amritsar, June 28
The family members of Rajesh Sehgal, a resident of Katra Baghian who committed suicide last week, today met the Minister for Industry & Commerce, Technical Education & Industrial Training, Anil Joshi, and urged him to intervene in the case.
Artists from Goa enthrall Amritsar residents
Amritsar, June 28
A team of the Goa Tourism Development Corporation led by its chairman Nilesh Cabral was here in the city. "Goa has been voted one of the most popular tourist destinations in the world several times. We get an increasing number of tourists in the state every year. Punjab is an important domestic market for us. So we decided to travel to the state with Goan culture and directly interact with tourism professionals here," said Nilesh.
Jatt and Juliet-2 opens to packed theatres
Amritsar, June 28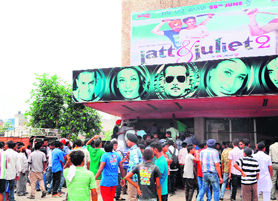 The film Jatt and Juliet-2 opened houseful at multiplexes and single-screen theatres here. The occupancy of the film was 80-100 per cent with rush for weekend bookings. "The film has got five star rating with a great script that doesn't lose grip any time. Everything about the film is being loved, be it the chemistry between the lead pair, dialogues, story or the locales. We are running 12 shows in a day and have a packed house till weekend," said Davender Singh, manager, Big Cinemas, Amritsar.
A huge rush outside a cinema hall where 'Jatt and Juliet-2 is being screened in Amritsar on Friday. A Tribune Photograph

Six held for bootlegging, possessing narcotics
Amritsar, June 28
The city police has arrested six persons for bootlegging and possessing narcotic substances. Paramjit Singh and Pardeep Kumar, both residents of Vikas Nagar in Chheharta were arrested with 144 bottles of liquor of various brands and around 200 intoxicant capsules.
1 booked for fraud
Amritsar, June 28
The Gate Hakima police has booked Navdeep Singh of Kallu Da Akhara and his accomplices for allegedly selling spare parts of stolen motorcycles.
Man accuses wife of theft
Amritsar, June 28
The Ajnala police has booked Raj Kaur of Wariah village for theft after her husband Samma Singh lodged a complaint against her. He said he was married to Raj Kaur about two months ago, adding that he gave Rs 30,000 to her and went for work.