LIFE+STYLE

CHANDIGARH

LUDHIANA

BATHINDA

JALANDHAR

AMRITSAR TRIBUNE

JALANDHAR TRIBUNE

BATHINDA TRIBUNE

JAMMU TRIBUNE

KASHMIR TRIBUNE

DELHI

DEHRADUN

DEHRADUN PLUS

Seven of family killed in U'khand roof collapse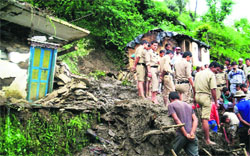 Dehradun, July 10
Seven members of a family were killed when the roof of their house collapsed at Bhikona village in Pokhara tehsil, Chamoli, late last night.
Rescuers search for people among the debris of houses after a landslide in Chamoli district on Wednesday. — PTI

Hooda govt to roll out food security scheme from Aug 20
More than half of state's population stands to benefit
Chandigarh, July 10


It's raining sops for the poor in Haryana ahead of the Assembly and Lok Sabha elections. The state government has announced its decision to implement the UPA's flagship food security scheme. What's more, it's also rolling out another scheme for providing subsidised pulses to below poverty line (BPL) families to take care of their nutritional needs.


OTHER PAGES

HIMACHAL: State mulls Act to regularise unauthorised structures


CHANDIGARH: Draft master plan-2031 out


LUDHIANA: Protesters again target public


DELHI: ECI meet to raise voter turnout in assembly polls


Business:

Rupee depreciation to hit India Inc

OPINIONS: Regulating acid sale

SPORTS: India back from the brink

WORLD: Egypt launches crackdown on Islamists for inciting violence


The tribune guide to best colleges

Budget
2013-14

INDIA CHINA WAR 50 YEAR LATER

YEAREND SPECIAL: 2012

Year of survival

The tribune 130 years
a witness to history
book released by prime minister manmohan singh

Guide to best colleges

Results of Punjab Assembly Polls 2012

HIMACHAL VOTES 2012

EARLIER FEATURES
Cong plans mass drive to sell food scheme
New Delhi, July 10
The Congress is planning a mass contact programme with people across India to launch its "game changer" National Food Security Ordinance, hoping it will deliver in the next general election on the lines of NREGA in 2004.
Bodh Gaya blasts
One more detained; three FIRs lodged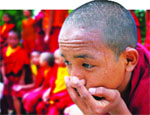 NIA probing all angles, says Shinde
Bodh Gaya/Patna, July 10
Investigators on Wednesday detained one more person while three FIRs were filed in connection with the July 7 serial blasts at Bodh Gaya in Bihar.
Shinde: Centre to study CISF cover for shrines
New Delhi, July 10
Union Home Minister Sushilkumar Shinde today said the Central Government would examine the issue of handing over the security of key religious places such as Bodh Gaya to the Central Industrial Security Force (CISF). (Details on Nation page)
Medical bonanza: More MBBS seats this year
Govt okays proposal; Azad meets representatives

of govt, private colleges
New Delhi, July 10
For the first time in the history of medical education in the country, the government has approved a proposal to allow extra MBBS seats to all public and private medical colleges this year.
Bodh Gaya blasts probe handed over to NIA
July 10, 2013
13 bombs were planted, says Shinde
July 9, 2013
9 serial blasts rock Bodh Gaya
July 8, 2013
India, China to scale up defence ties
July 7, 2013
Freebie offers vitiate poll process: SC
July 6, 2013
Food security ordinance raises Opposition hackles
July 5, 2013
Ishrat encounter was fake: CBI
July 4, 2013
Maoists kill SP, 5 cops in Jharkhand
July 3, 2013
U'khand gets rehab authority
July 2, 2013
As toll estimates mount, states asked to verify their missing
July 1, 2013