LIFE+STYLE

CHANDIGARH

LUDHIANA

BATHINDA

JALANDHAR

AMRITSAR TRIBUNE

JALANDHAR TRIBUNE

BATHINDA TRIBUNE

JAMMU TRIBUNE

KASHMIR TRIBUNE

DELHI

DEHRADUN

DEHRADUN PLUS



Modi stamp evident as BJP unveils poll teams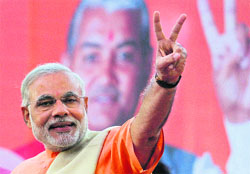 New Delhi, July 19
The BJP today unveiled its battle plan for the 2014 general election by announcing its much-awaited central election campaign committee led by Gujarat Chief Minister Narendra Modi.
The Tribune DEBATE asli vs naqli chandigarh — part Vi
Take 'New Chandigarh', vacate 'asli' city, Hooda tells Punjab
Chandigarh, July 19
Haryana has no objection to Punjab going ahead with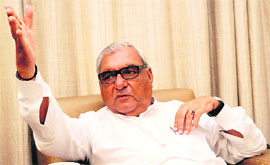 developing Mullanpur as New Chandigarh if Punjab gives up its claim on Chandigarh, the joint capital of the two states, says Haryana Chief Minister Bhupinder Singh Hooda.
Photo: Pradeep Tewari


OTHER PAGES

PUNJAB: Rs 10,000 crore plan for state villages finalised: Sukhbir


HIMACHAL: Central team to visit Kinnaur on July 25


CHANDIGARH: Dingy rooms for a kitchen


LUDHIANA: Govt splurges on oath-taking function


DELHI: Woman gangraped in moving van


Business:

RIL profit jumps 19% in Q1 on strong margins

OPINIONS: No common entrance test

SPORTS: Dhyan Chand, not Sachin, nominated for Bharat Ratna

WORLD: Obama may cancel meeting with Putin over Snowden


The tribune guide to best colleges

Budget
2013-14

INDIA CHINA WAR 50 YEAR LATER

YEAREND SPECIAL: 2012

Year of survival

The tribune 130 years
a witness to history
book released by prime minister manmohan singh

Guide to best colleges

Results of Punjab Assembly Polls 2012

HIMACHAL VOTES 2012

EARLIER FEATURES
book scam
Centre says will recover 'embezzled' funds from Punjab
New Delhi, July 19
The Centre has decided to recover money embezzled by Punjab from the Sarva Shiksha Abhiyan (SSA) and Rashtriya Madhyamik Shiksha Abhiyan (RMSA) funds in case it is not satisfied with the response of the Punjab Government in the wrongful procurement of school library books and science kits by the state government.
Ramban clash victims buried amidst protests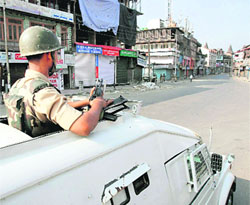 Jammu, July 19
The four persons killed in clashes with the BSF yesterday were laid to rest in their villages today amid demonstrations against alleged high-handedness of security forces in Ramban town, Banihal and Gool.
A security man keeps vigil during curfew in Srinagar.

Junior shooters face ban for late-night booze parties
Patiala, July 19
Two junior shooters suspended by the National Rifle Association of India (NRAI) pending investigation into charges of sexual harassment made against them by a female shooter during a tournament in Germany are likely to be exonerated following absence of evidence.
4 dead, 42 injured as mob raids BSF post in J&K
July 19, 2013
Bihar mid-day meal tragedy toll 22; 50 more kids fall ill
July 18, 2013
Govt revises FDI cap, allows 100% in telecom, 49% in insurance
July 17, 2013
One month on, 5,748 still missing in Uttarakhand
July 16, 2013
New Bhutan govt keen to boost ties with India
July 15, 2013
Roll out food scheme quickly: Sonia to CMs
July 14, 2013
2002 riots: Modi says did no wrong
July 13, 2013
Allahabad HC puts on hold caste-based rallies in UP
July 12, 2013
Convicted lawmakers to lose membership: SC
July 11, 2013
Bodh Gaya blasts probe handed over to NIA
July 10, 2013