LIFE+STYLE

CHANDIGARH

LUDHIANA

BATHINDA

JALANDHAR

AMRITSAR TRIBUNE

JALANDHAR TRIBUNE

BATHINDA TRIBUNE

JAMMU TRIBUNE

KASHMIR TRIBUNE

DELHI

DEHRADUN

DEHRADUN PLUS

Tension mounts in Gurgaon village over religious structure
Gurgaon, August 26
Some unidentified persons demolished part of a religious structure and beat up its caretaker late last night at Wazirpur village, triggering tension in the area. Caretaker of the religious structure approached Commissioner of Police Alok Mittal and complained that the police did not act despite being informed that the religious place was being demolished.
Mumbai gang rape
Police set to file chargesheet, no accused a minor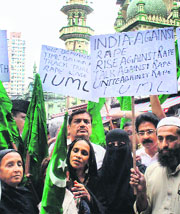 Mumbai, August 26
Investigators probing the gang rape of a young photojournalist in Mumbai last week were all set to file the chargesheet in the case following the arrest of all accused, Police Commissioner Satypal Singh told reporters today. "We are now focusing on filing the chargesheet as quickly as possible. We will ask for the strictest punishment for all accused," he said.
Protests continue against a photojournalist's gang rape, in Mumbai on Monday. — PTI

OTHER PAGES

J&K: SC questions J&K's biased relief policy for paramilitary forces


HIMACHAL: Land Revenue Bill passed to check benami deals


CHANDIGARH: Water crisis in city, Mohali deepens


LUDHIANA: Urban population in dist swells


DELHI: Farmers clamour for Land Bill, present memo to House


Business:

Rupee tanks 110 paise to close at 64.30 vs dollar

OPINION: Divide and rule


NATION: Ayodhya yatra rocks Parliament


SPORTS: India clear Korean hurdle, enter semis

WORLD: As Taliban refuse to talk to Kabul, Karzai seeks Pak help


Lahore Log

The tribune guide to best colleges

Budget
2013-14

INDIA CHINA WAR 50 YEAR LATER

YEAREND SPECIAL: 2012

Year of survival

The tribune 130 years
a witness to history
book released by prime minister manmohan singh

Guide to best colleges

Results of Punjab Assembly Polls 2012

HIMACHAL VOTES 2012

EARLIER FEATURES
Two securitymen killed in twin Valley attack
Anantnag, August 26
A CRPF man was shot dead in Shopian and a member of the Special Operations Group (SOG) lost his life in Arwani area of Bijbehara in twin militant attacks in the Valley today. In the evening, a CRPF personnel was killed and another injured after a visiting lawmaker's security came under militant attack in Awneera village of Shopian district.

Bank confirms Punjab mortgaged PUDA assets
Chandigarh, August 26
Canara Bank today confirmed it had extended a loan of Rs 500 crore to the Punjab Urban Development Authority (PUDA) after the latter mortgaged its properties as collateral. The loan was sanctioned by the public sector bank on August 21 and the cheque was delivered to the PUDA authorities on August 23.
Cross-border skirmishes peak as Pak focuses on Afghan drawdown
New Delhi, August 26
Ceasefire violations along the Line of Control (LoC) between India and Pakistan have peaked in the past one month triggering apprehensions between two nuclear armed and mistrusting neighbours. The Indian Army estimates say that the LoC is volatile along 48 km or some 6 per cent of its 740-km length.
Rape cases: SC for uniform compensation, rehab policy
New Delhi, August 26
Expressing concern over the recent spurt in sexual assaults in various parts of the country, the Supreme Court today decided to go into the entire gamut of problems of rape victims-from poor conviction rate to the absence of a uniform compensation and rehabilitation policy.

Monsoon bounty: Good rains, plentiful grains
August 26, 2013

Sonia rules out early polls, sure of UPA-III
August 25, 2013

12 Andhra MPs suspended in LS
August 24, 2013
12 Andhra MPs suspended in LS
August 23, 2013
Govt seeks to negate SC order on convicted lawmakers
August 23, 2013
Chinese troops intrude into Arunachal
August 22, 2013
4 Cong states roll out food security plans
August 21, 2013
Train mows down 37 in Bihar
August 20, 2013
Lashkar's Tunda was in touch with ISI
August 19, 2013
Top terrorist Tunda arrested
August 18, 2013
Capital control fears trigger stock market plunge, steep fall in Re
August 17, 2013