LIFE+STYLE

CHANDIGARH

LUDHIANA

BATHINDA

JALANDHAR

AMRITSAR TRIBUNE

JALANDHAR TRIBUNE

BATHINDA TRIBUNE

JAMMU TRIBUNE

KASHMIR TRIBUNE

DELHI

DEHRADUN

DEHRADUN PLUS

12 killed in shooting spree at Washington Navy Yard
Washington, September 16
Three gunmen today went on the rampage in the high-security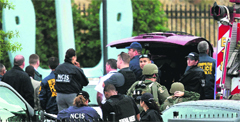 Washington Navy Yard, located a short distance from the White House, killing 12 persons and injuring several others in an audacious mass shooting.
Law enforcement officers cordon off the streets outside the Washington Navy Yard following a shooting in Washington on Monday. — AP/PTI
CAT stays promotion of 12 PCS officers to IAS
Chandigarh, September 16
The promotion of 12 Punjab Civil Services officers to the elite Indian Administration Service (IAS) has run into rough weather with the Central Administrative Tribunal (CAT) staying the proceedings of the Departmental Promotion Committee (DPC) of Department of Personnel and Training (DoPT).
Advani breaks his silence, praises Modi's work as CM
New Delhi, September 16
Three days after LK Advani's public demonstration of his displeasure over the anointment of Narendra Modi as the BJP's prime ministerial candidate, the veteran leader today praised his one-time protégée, describing him as a colleague who had put Gujarat on the fast track of development.

Editorial: Modi softens
OTHER PAGES

J&K: SC: J&K enjoys special status, must have fair compensation policy


HIMACHAL: CM announces colleges for Diggal, Dharampur


CHANDIGARH: Storm leaves behind a trail of destruction


LUDHIANA: Power network bears brunt of storm


DELHI: Delhi elections: BJP to begin campaign today

BUSINESS: Food inflation rises to 3-year high of 18.18% in August

OPINIONS: Modi softens


NATION: Polio camp goof lands 114 kids in hospital; Mamata orders probe


SPORTS: Bhajji keeps eye on the ball

WORLD: Sarin gas used on large scale in Syria: UN


Lahore Log

The tribune guide to best colleges

Budget
2013-14

INDIA CHINA WAR 50 YEAR LATER

EARLIER FEATURES

Haryana schools in a bind over semester exam for pre-board classes
Hisar, September 16
Confusion prevails in government schools across Haryana on whether or not they should conduct first-semester examination for pre-board classes (VI to VIII). While some schools in Hisar and Bhiwani have decided to hold the examination to assess the students' performance, others feel the examination is not necessary since their students undergo continuous and comprehensive evaluation (CCE) on a monthly basis.
Special to the tribune
Indian-origin beauty wins Miss America crown, faces racist slur
Nina Davuluri made history on Sunday night by becoming the first Indian-American to be crowned Miss America, but in doing so triggered a torrent of racist remarks on the social

site, Twitter. Miss Davuluri, 24, is from Syracuse in the New York state and was the reigning Miss New York. She performed a Bollywood fusion dance in her talent routine and in response to a question on the merits of plastic surgery, said: "Be confident in who you are!"
Miss New York Nina Davuluri after winning the Miss America Competition in Atlantic City, New Jersey, on Sunday. — AFP

In poll mode, Modi calls for strong leadership at Centre
September 16, 2013
Anger is Advani's right, will pacify him: Rajnath
September 15, 2013
BJP crowns Modi as PM candidate for 2014
September 14, 2013
BJP to decide on Modi as PM nominee today
September 13, 2013
Prosecution seeks death penalty for rapists; sentencing tomorrow
September 12, 2013
4 guilty of Dec 16 gang rape, murder
September 11, 2013
UP on edge as riots toll rises to 30
September 10, 2013
Muzaffarnagar clashes toll 21; Army out
September 9, 2013
Happy to work under Rahul in party: PM
September 8, 2013
House passes Bill to allow those in jail to contest polls
September 7, 2013
RS okays Bill to give Executive role in judges' appointment
September 6, 2013