LIFE+STYLE

CHANDIGARH

LUDHIANA

BATHINDA

JALANDHAR

AMRITSAR TRIBUNE

JALANDHAR TRIBUNE

BATHINDA TRIBUNE

JAMMU TRIBUNE

KASHMIR TRIBUNE

DELHI

DEHRADUN

DEHRADUN PLUS
Pak pounds 8 posts along LoC in Poonch
Jammu, October 22
Pakistani troops pounded at least eight Indian forward posts along the Line of Control (LoC) in the Poonch sector today, at a time when Union Home Minister Sushilkumar Shinde was reviewing the security scenario with top officers in Samba and Jammu.
PM in China, border defence pact on anvil
Beijing, October 22
India and China are likely to sign a new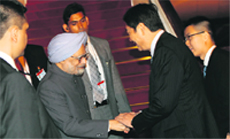 Border Defence Cooperation Agreement (BDCA) signalling the common intent of leadership on either side to maintain peace and tranquility across the borders that are not clearly demarcated.
PM Manmohan Singh being welcomed by Chinese officials in Beijing on Tuesday.
NHAI to SC: No stretch of Panipat-Jalandhar highway complete
New Delhi, October 22
The National Highway Authority of India (NHAI) today told the Supreme Court that the company which was given the contract for constructing the 291-km Panipat-Jalandhar highway had not done complete work even on one square inch of the road.

OTHER PAGES

HARYANA: Medical bills of legislators, ex-MLAs cost govt Rs 1.36 cr


J&K: Congress leaders from Jammu press for firm action against Pak


HIMACHAL: Mansa Ram sworn in as CPS


CHANDIGARH: Railways, pvt schools among top defaulters


LUDHIANA: Parking contractors charge at will


DELHI: 313 FIRs filed against parties for violating code

OPINIONS: No more MP


BUSINESS: FM: Top 30 NPA accounts of PSU banks under scanner


SPORTS: Taking his game beyond pain

WORLD: Arab, Western powers say no future role for Assad


Lahore Log

The tribune guide to best colleges

Budget
2013-14

INDIA CHINA WAR 50 YEAR LATER

EARLIER FEATURES
Govt mulls banning onion exports as prices touch Rs 90/kg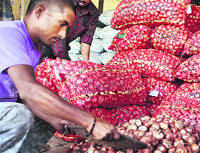 New Delhi, October 22
The government is mulling banning onion exports and crack whip on hoarders to contain prices, which have risen back to the Rs 80-90/kg level in the national capital owing to supply crunch.
The tearjerker
Punjab to have single-stage VAT regime
Chandigarh, October 22
In a major relief to traders, the Punjab Government has decided to remove the multiplicity in Value Added Tax (VAT) on all commodities by imposing it right at the manufacturing level. The move will not only simplify the taxation procedure, but also eliminate the practice of doing business without proper accounting of sales.
Punjab Shamlat Plunder-3
Gurdaspur officials fail to take on 'influential' encroachers
FEAR FACTOR: Authorities are reluctant to retrieve land in illegal possession of politicians or their henchmen
Gurdaspur, October 22
In this district whenever there is a discussion on illegal possession of shamlat land (common village land), talk often veers around to Ranbir Singh Mudal, who was posted as the Gurdaspur DDPO four years ago. Revenue officials often recall his tale of woes whenever they are asked by administration officials to take back lands in illegal possession of politicians or their henchmen.

Omar warns Pak on ceasefire violations
October 22, 2013
Army's claim over Keran ops under lens
October 21, 2013
PMO defends Odisha coal block allocation, says it was 'on merit'
October 20, 2013
US ship crew under arrest; arms seized
October 19, 2013
US shutdown is over
October 18, 2013
PM took final decision on allocations:
Ex-Coal Secy
October 17, 2013
Coal scam: CBI books Birla, former Secretary
October 16, 2013
Flood challenge in Phailin's wake
October 15, 2013
109 killed in MP temple stampede
October 14, 2013
Phailin fury strikes Odisha, north Andhra
October 13, 2013