LIFE+STYLE

CHANDIGARH

LUDHIANA

BATHINDA

JALANDHAR

AMRITSAR TRIBUNE

JALANDHAR TRIBUNE

BATHINDA TRIBUNE

JAMMU TRIBUNE

KASHMIR TRIBUNE

DELHI

DEHRADUN

DEHRADUN PLUS

Keran ops: Govt in a fix as Army, intel agencies differ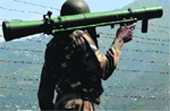 New Delhi, November 13
A month after the operations ended in the Keran sector along the Line of Control (LoC) in Jammu and Kashmir, the government has made it clear that it was not ready to accept the gaps in two different narratives on the incident.
Aziz, PM discuss bilateral issues
New Delhi, November 13
Sartaj Aziz, Pakistan Prime

Minister's Adviser on Foreign Affairs, met Prime Minister Manmohan Singh and discussed bilateral relations today. Official sources said it was a "courtesy call" by Aziz since he was here for the Asia-Europe Meeting (ASEM) that concluded yesterday.

OTHER PAGES

HARYANA: Now, HJC to flex its muscles at Hisar on December 1


HIMACHAL: Cabinet nod to sub-cadre of staff for remote areas


CHANDIGARH: Hand-
writing trouble for Doon MLA


LUDHIANA: Maid killed in freak accident


DELHI: Delhi polls: Badals to be star campaigners for SAD

OPINIONS: Charge against judge


BUSINESS: Get tough with defaulting corporates: FinMin to PSBs


NATION: Rahul, Modi earn EC wrath


SPORTS: The last ride together

WORLD: Pak secretly backs drone attacks: Ex-envoy


Lahore Log

The tribune guide to best colleges

Budget
2013-14

INDIA CHINA WAR 50 YEAR LATER

EARLIER FEATURES
FarewellSachin
At Wankhede, Sachin pads up for final bow


Maestro's much-awaited final 200th Test begins at his hometown today
Mumbai, November 13
The moment is here and now. For the haters and the lovers, the believers and the doubters, the unimaginable life without Sachin Tendulkar is about to begin. (More news on Sports page)
Punjab land grab: Justice Kuldip Singh Special Tribunal Report Part-V
Fraudulent civil decree enabled illegal sales
Chandigarh, November 13
Terming the sale of shamlat lands in Chhoti and Bari Nagal villages near Chandigarh to an alleged front company of a corporate house in 1993 as "collusive" and "illegal", the Special Tribunal headed by Justice Kuldip Singh has recommended that the lands be restored to the panchayat and defaulters be proceeded against.
chogm meet
No dilution in India's stand on Tamils, says Khurshid
Colombo, November 13


Ignoring demands from political parties in Tamil Nadu for a total boycott, External Affairs Minister Salman Khurshid arrived here today for the CHOGM summit, making it clear that India's participation was not in any way a dilution of its stand on Tamils in Sri Lanka.
Salman Khurshid
For meaningful talks, respect India's views: Khurshid to Pak
November 13, 2013
CBI must work under govt: PM
November 12, 2013
Hooda pleases all at Gohana show
November 11, 2013
Apex court stays Gauhati HC verdict on CBI status
November 10, 2013
Govt to challenge HC order on CBI formation
November 9, 2013
Gauhati HC questions CBI validity
November 8, 2013
Rahul vows panchayat empowerment in J&K
November 7, 2013
India blasts off in race to Mars
November 6, 2013
UK scraps contentious visa bond plan to check overstay
November 5, 2013
JD(U), BJP spar as Modi revisits Bihar
November 3, 2013