LIFE+STYLE

CHANDIGARH

LUDHIANA

BATHINDA

JALANDHAR

AMRITSAR TRIBUNE

JALANDHAR TRIBUNE

BATHINDA TRIBUNE

JAMMU TRIBUNE

KASHMIR TRIBUNE

DELHI

DEHRADUN

DEHRADUN PLUS
Country's first bank by women, for women opens in Mumbai
Mumbai, November 19
Bharatiya Mahila Bank, India's first women's bank, was inaugurated by Prime Minister Manmohan Singh today.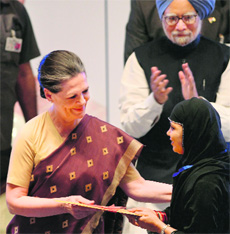 The bank's chairperson Usha Ananthasubramanian said the institution would lend exclusively to women. "Our target customers are individual women, self-help groups and business establishment owned by women," Ananthasubramanian said after the inauguration function.
Congress chief Sonia Gandhi hands over documents to a bank account holder as PM Manmohan Singh looks on in Mumbai. PTI

Centre approves Army corps along China border
New Delhi, November 19
The government has given its final go-ahead to the Army for raising a corps along the China border. It will involve deployment of 50,000 additional troops along the border at a cost of Rs 65,000 crore.

OTHER PAGES

PUNJAB: Top heavy bureaucracy leads a thin team of junior officers


J&K: Govt cracks down on black market of essential commodities


HIMACHAL: Gurgaon firm to widen Theog-Rohru road


CHANDIGARH:
Underpasses go to MC


LUDHIANA: Eight booked for fraud


DELHI: Cong manifesto to stress development

OPINIONS: Tip of the Ice-berg

SPORTS: Anand in make or break zone

WORLD: Blasts near Iran Embassy in Beirut kill 23



Lahore Log

The tribune guide to best colleges

Budget
2013-14

INDIA CHINA WAR 50 YEAR LATER

EARLIER FEATURES
Punjab Land Grab: Justice Kuldip Singh Special Tribunal Report Part XI
Continuing with the series, The Tribune today reproduces operative portions of the report pertaining to Hoshiarpur village
GMADA compensated illegal occupants
Chandigarh, November 19
The Special Tribunal headed by Justice Kuldip Singh has pointed out a piquant situation relating to Shamlat land in Hoshiarpur village, near here. When the Greater Mohali Area Development Authority (GMADA) acquired huge chunks of shamlat deh, it gave compensation to those illegally occupying the land.



Punjab page: Punjab Government to probe loot of public lands
pay-off remarks
VK Singh files reply to J-K Assembly notice
Jammu, November 19
Former Army Chief Gen VK Singh has filed his reply to the breach of privilege notice issued to him by the Jammu and Kashmir Assembly.


Sibling revelry: Her brother did BCA at 14, she's pursuing masters at 13!
Rohtak, November 19
Tej Bahadur Verma, who belongs to a village of Rae Bareli district in Uttar Pradesh, used to work as a farm-labourer. Reading the Ramayana has been an essential part of his daily routine. But now, Verma is a proud father of not one, but two prodigious children. Thanks to his extraordinarily talented daughter Sushma, he is now employed at a Central university in Uttar Pradesh.
Cong goes to EC against Modi as poll fever peaks
November 19, 2013
Manmohan takes on Modi
November 18, 2013
Bharat Ratna for Sachin, top scientist Rao
November 17, 2013
Only BJP in favour of opinion polls
November 16, 2013
India, UK to deepen trade ties, boost investments
November 15, 2013
Courts deal twin blows to Hooda govt
November 14, 2013
For meaningful talks, respect India's views: Khurshid to Pak
November 13, 2013
CBI must work under govt: PM
November 12, 2013
Hooda pleases all at Gohana show
November 11, 2013
Apex court stays Gauhati HC verdict on CBI status
November 10, 2013