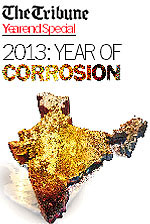 Ganguly quits as WB rights panel chief


Kolkata, January 6
Justice AK Ganguly today resigned as chairman of the West Bengal Human Rights Commission (WBHRC) following allegations of sexual harassment by a law intern, sources said.

Justice AK Ganguly in Kolkata on Monday. PTI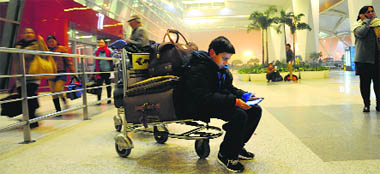 NO where to go:

A boy waits for his fog-affected flight at IGI Airport in New Delhi on Monday. Tribune Photo: Mukesh Aggarwal
Worst fog in 8 years hits 600 flights in Delhi
Flyers were left high and dry as 463 flights were delayed, 52 diverted and 140 cancelled due to dense fog between 1 am and 12 pm on Monday. 37 trains, mostly Delhi-bound, were running late
Hisar freezes at minus 2.1, cold wave sweeps North
Mercury hovered several notches below normal as intense cold wave continued to sweep North India. Hisar in Haryana saw the temperature dropping to record-breaking minus 2.1 degree Celsius
Attack on Patiala jail staff; 9 hurt
Patiala, January 6
At least nine officials of the Central Jail, Patiala, including Assistant Superintendent of Police (Jails) Inderjeet Singh Kahlon, were injured in an attack by inmates during search this morning. The search was being conducted after a mobile phone charger was recovered from one of the inmates.
OTHER PAGES

J&K: Cleared by govt a year ago, road corporation yet to see light of day


HIMACHAL: Snow doubles fervour on last day of winter carnival


CHANDIGARH: PO formally in UT police net


LUDHIANA: Trains continue to run behind schedule due to bad weather


DELHI: Cooperate with govt audit or lose licence, LG warns discoms

OPINIONS: Cryogenic success


NATION: CBI claims to have got all the relevant coal scam files


BUSINESS: SEBI now holding individuals accountable for irregularities

SPORTS: SC to hear BCCI plea, defers RCA elections result

WORLD: Hasina offers olive branch to Zia


Lahore Log

The tribune guide to best colleges

Budget
2013-14

INDIA CHINA WAR 50 YEAR LATER

EARLIER FEATURES
ppcc list row
Cong pointman to meet Punjab leaders today
New Delhi, January 6
A nominee of the Congress high command will be in Chandigarh tomorrow to meet state party leaders and discuss reconstitution of the Punjab Pradesh Congress Committee (PPCC) which has caused heartburn in certain sections.
Graft: Virbhadra asks BJP to go to Lokayukta
New Delhi/Shimla, January 6
Himachal Chief Minister Virbhadra Singh and the Congress today asked the BJP to approach the Lokayukta over alleged corruption allegations against the Chief Minister as he was ready to face the "consequences".
hpca case
Vigilance looks to target ex- CM Dhumal


Dharamsala, January 6
The Himachal Pradesh Vigilance and Anti-Corruption Bureau seems to be looking to include former Chief Minister and Leader of Opposition Prem Kumar Dhumal in the Himachal Pradesh Cricket Association (HPCA) case.
KK Pant, ex-DC of Kangra, deposed before the vigilance bureau officials on Monday.

Green, health concerns over Fatehabad N-plant
Gorakhpur (Fatehabad), January 6
About an hour's drive from the industrial city of Hisar, a village with rich fertile land spread across hundreds of acres is awaiting a rebirth. Ask anyone in Gorakhpur about their future, most will reply with a hint of what is predestined: "parmanu yug (nuclear age) has come."

GSLV propels India into exclusive club
January 6, 2014

AAP's grand plan: To contest most LS seats
January 5, 2014

PM says no 3rd term for him, Rahul fit for top job
January 4, 2014

M'rashtra Govt partially accepts inquiry report on Adarsh scam
January 3, 2014
Govt scraps Agusta copter deal
January 2, 2014
After water, power sop for Delhiites
January 1, 2014
Kejriwal keeps free-water promise
December 31, 2013
Kejriwal: We'll deliver in 10 days
December 30, 2013
Kejriwal vows new working style
December 29, 2013
2002 riots: Modi says he was 'shaken to the core'
December 28, 2013