Justice Swatanter Kumar case
Delhi HC puts curbs on media
New Delhi, January 16
The Delhi High Court today restrained the media from publishing and telecasting the sexual harassment allegations levelled against National Green Tribunal (NGT) Chairman Swatanter Kumar by a woman lawyer.
cjm wife's murder
'Clueless' CBI offers Rs 5 lakh for info
Gurgaon, January 16
Six months after taking over the investigation into the Geetanjali Garg murder case, the CBI has apparently hit a dead end and sought help from the public. The agency has issued an advertisement and put up posters across the city, announcing a reward of Rs 5 lakh to anyone giving a concrete clue or evidence.
Graft charge: Virbhadra sues Jaitley, Dhumal
Shimla, January 16
Himachal Pradesh Chief Minister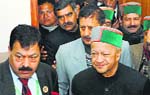 Virbhadra Singh, under attack from the BJP on charges of corruption, on Thursday filed criminal defamation cases against senior BJP leaders Arun Jaitley, ex-CM PK Dhumal and his sons, accusing them of unleashing a slanderous campaign against him and his family.
OTHER PAGES

HARYANA: 23 villagers hurt in clash over panchayat land in Kaithal


HIMACHAL: CM's press meet a show of strength


CHANDIGARH: Kajauli pump house damaged


LUDHIANA: Rail traffic goes off-track


DELHI: Fix police accountability: CM

OPINIONS: More autonomy for CBI


NATION: Go-ahead for POSCO plant as India, S Korea sign 9 pacts


BUSINESS: EGoM approves 10% stake sale in IOC

SPORTS: On the ball

WORLD: Musharraf skips hearing; medical board set up to review his health


The tribune yearender 2013 : year of corrosion

Lahore Log

The tribune guide to best colleges

Budget
2013-14

INDIA CHINA WAR 50 YEAR LATER

EARLIER FEATURES
Drug probe: Cong workers lay siege to Punjab roads
Divisions among party leaders comes to the fore in some districts
Chandigarh, January 16
On a call for a "chakka jam" given by Punjab Pradesh Congress president Partap Singh Bajwa, Congressmen today blocked roads at various places in the state. Though the overall response from the Congressmen to the agitation was satisfactory, it brought to the fore divisions among Congress leaders in some districts.

Schoolkids pick up trash at Punjab CPS' feast
Faridkot, January 16
It had all the trappings of a big, fat Punjabi wedding: a lavish spread, a series of pre-wedding functions and a glittering guest list, but what raised eyebrows was a group of schoolchildren collecting the trash generated by the high-profile guests.
Eye on poll, Hooda cuts power rates
Chandigarh, January 16
Compulsions of an election year weighed heavy on Haryana Chief Minister Bhupinder Singh Hooda as he today announced a major relief to the state's domestic and agriculture power consumers despite the distribution companies already being in the red.
Intern's plea: SC notice to Justice Swatanter Kumar
January 16, 2014
Cameron orders probe into Thatcher link
January 15, 2014
Revoking AFSPA will not help Kashmir: Army Chief
January 14, 2014
India offers DGMO-level talks with China
January 13, 2014
Moily wants SC's ex-judge probed
January 12, 2014
India 'expels' US diplomat after Devyani indicted in NY
January 11, 2014
US court rejects Devyani's plea
January 10, 2014
Better times ahead, PM assures diaspora
January 9, 2014
Priyanka chairs key Cong election meet
January 8, 2014
Can't be business as usual, India tells US
January 7, 2014
GSLV propels India into exclusive club
January 6, 2014