Now, PUDA announces high-end flats
Tribune News Service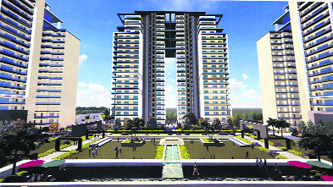 Jalandhar, October 9
While the Jalandhar Improvement Trust (JIT) had earlier tasted bitter experience of getting just 18 applications for 119 super-deluxe flats in Surya Enclave, PUDA, too, has now started inviting applications for its high-end flats at the Old Jail site.
The foundation stone for the 22-storeyed flats scheme, now named Splendid Heights, had been laid by Deputy Chief Minister Sukhbir Badal on February 10. The four-bedroom flats in the scheme in an area of 2385 sq feet area have been priced for as high as Rs 91.9 lakh, while the three-bedroom flats with a floor area of 1874 sq feet are being sold for Rs 71.9 lakh.
The earnest money too for the four BHK and three BHK of the flats has been kept at Rs 6 lakh and Rs 4 lakh, respectively.
The price of the PUDA flats is extremely high, especially going by the response the JIT got in March this year. The three-bedroom flat of the JIT in a relatively bigger covered area of 2,660 sq feet had been priced for Rs 67 lakh and still there had been hardly any response.
"While the government housing schemes are meant to be in the affordable range of common people and should be aimed at fulfilling their basic requirements, they now seem to be framed keeping in view a completely commercial bent of mind. With Deputy CM Sukhbir Badal having announced 832 flats at the site eight months ago, people had high hopes and had been eagerly awaiting the announcement of the scheme. But with such high rates quoted, their hopes have completely dashed," said Sanjay Sehgal, Congress leader and a realtor.
Kailash Thukral, a resident, opined that when the government wanted to dissuade people from investing in illegal colonies, it should either formulate a proper policy of private realtors which has not been done for the past over 16 months or should at least itself offer affordable, time-bound and reliable schemes.
The timeframe mentioned by PUDA in its insertions reads, "Scheme opens on October 7 and closed on November 7. Draw of lots to be held on January 6, 2015. Construction begins in January 2015 and completion by July 2017." The various features listed include modular kitchen, exquisite bathroom fittings, 10 years maintenance, club, banquet, terrace garden, restaurant, bar, swimming pool, indoor games, gymnasium, yoga facility and three elevators for each floor. Almost similar facilities had also been assured by the JIT and still there had been a meek response.
The applications have been invited for 382 3BHK apartments and 108 4 BHK apartments, which means 490 out of 832 flats announced earlier. Both flats will have additional servant room with bathroom. The total project site mentioned earlier was 18.97 acre and the total cost of project had been mentioned as Rs 550 crore. PUDA had also announced that a Ludhiana-based architect had been roped in for the project.
The approach road to the flats beginning from the jail gates has been proposed to be 150 feet towards the entrance of the flats. The approach road from Football Chowk had been widened to 80 feet by a quick-action demolition by the MC two years ago.
PUDA has, perhaps, chosen this time for inviting the applications since the festive season is on and the NRIs have already started descending in Punjab and they, too, could pitch in with their investments.
Land stands mortgaged, CA defends
Interestingly, PUDA has nowhere in the insertion mentioned that this site falls on Jail Road and stands mortgaged with the Bank of Baroda for an amount of Rs 400 crore since March last year. However, PUDA Chief Administrator Manvesh Sidhu says that people should not worry on that front. "The registries are to be done for the allottees three years down the line and we are already in a position to get the land free anytime now. Moreover, the bank has no problem at all, with we going ahead with the scheme".
The CA also defended the price range for the flats. He said, "It will be a ready to walk-in kind of a flat with the Jaguar sanitary fittings, chimneys in kitchen and best tiles." He added that the location of the flats could not be better than this one. He claimed, "We are not making any profits out of this scheme."
JIT's bitter experience
Jalandhar Improvement Trust had the bitter experience of getting just 18 applications for 119 super-deluxe flats in Surya Enclave