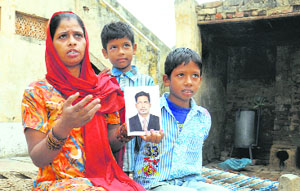 Govt won't let us down, say families
Amritsar, November 28
Media reports about the possible killing of 39 Indian youth abducted by ISIS activists has added to the concerns of their families here, though some of them trashed these reports and expressed confidence in the Union Government's efforts to bring their kin back.

Hope fading: Kamaljit Kaur, wife of abducted Roop Lal, with her sons at Bath Kalan village in Nakodar. Tribune Photo: Malkiat Singh

Tearful adieu to valiant soldiers
Gakhal, November 28
The mortal remains of Naik Kulwinder Singh were consigned to the flames with military honours at Gakhal village in Jalandhar today. Killed in an encounter in Jammu's Arnia Sector yesterday, he is survived by his parents, wife Rajwinder Kaur (32), son Jaspreet (5) and daughter Bhavna (3).


Rajwinder Kaur breaks down as her husband's body arrives in a coffin at Gakhal village in Jalandhar district on Friday; and (below) an inconsolable Balveer Kaur with her relatives at Boha town in Mansa. Tribune Photos: Malkiat Singh

Six months on, state awaits funds from Modi govt
Chandigarh, November 28
It has been six months since the Narendra Modi government assumed office, but the SAD-BJP government has not received any help from it. While campaigning for the Lok Sabha elections, the Chief Minister had claimed that Punjab would benefit hugely with the NDA coming to power at the Centre.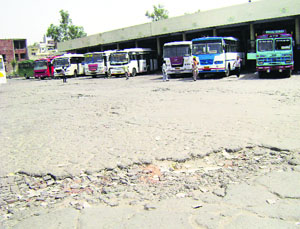 State of cities and towns: Sangrur
Fund crunch stalls several city projects
Punjab, with a population of 38 per cent in cities, is on the road to urbanisation. Census 2011 figures indicate that a large number of people have migrated from villages to cities. With municipal elections in the state round the corner, The Tribune reporters visited various towns and cities to study the impact of urbanisation

The PRTC bus stand in Sangrur is in a bad shape. Even a drizzle leads to its inundation. A Tribune photograph

2 policemen aiding 'FB cop' suspended
Bathinda, November 28
A day after a youth, Karandeep Singh, was arrested for allegedly impersonating as a police officer, the two policemen standing guard beside the accused in a photograph posted by him on Facebook were placed under suspension today. More complaints of alleged fraud were received against the accused today.
Vigilance sleuths inspect files of Faridkot transport office
Faridkot, November 28
Mansa and Faridkot Vigilance sleuths today inspected the District Transport Office (DTO) in Faridkot to probe allegations of evasion of sales tax on inter-state transfer of vehicles. It is alleged that without any no-objection certificate (NOC) from the registration authorities of the parent state, ownership of vehicles is being transferred in the name of residents of Punjab, causing a huge loss of sales and road tax to the exchequer.
Farmers gherao cotton corp office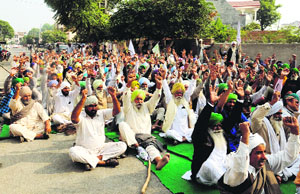 Bathinda, November 28
Farmers from seven districts today gheraoed the Cotton Corporation of India office in Bathinda to protest the sluggish purchase of cotton. Members of the Bharatiya Kisan Union from Bathinda, Muktsar, Fazilka, Barnala, Mansa and Faridkot blamed the state and Central governments for slow procurement and low prices.

Farmers protest outside the office of Cotton Corporation of India in Bathinda on Friday. Tribune photo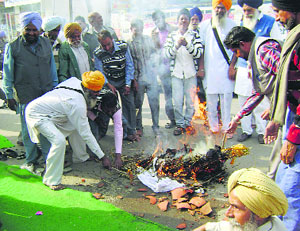 Pendu Chowkidar Union ends dharna
Sangrur, November 28
Members of the Pendu Chowkidar Union, Punjab, who had been staging a dharna outside the district administrative complex (DC office) here since November 18, today ended their agitation with the announcement that the protest had been deferred till February.

Members of the Pendu Chowkidar Union, Punjab, burn an effigy of the state government in Sangrur on Friday. Tribune photo

Get cracking on drugs: NHRC to govt
Chandigarh, November 28
A full bench panel of the National Human Rights Commission (NHRC) led by its chairperson Justice (retd) KG Balakrishnan heard 95 complaints from Punjab, Haryana and Himachal Pradesh during three-day confabulations that ended in Chandigarh today.
CM against doing away with MSP
Chandigarh, November 28
Chief Minister Parkash Singh Badal today said that minimum support price (MSP) must not be done away with till a self-sustaining mechanism of income support was evolved for the farmers.
Pak Hindus arrive for immersion of ashes
Amritsar, November 28
Around 350 Hindus, including women and kids, arrived from Pakistan via the Attari-Wagah check post today to immerse ashes of their kin in the Ganga, besides performing pilgrimage at holy places like Haridwar and Rishikesh. Belonging to Sindh province and other parts of Pakistan, these Hindu families lamented that they had to keep the ashes of their kin for long as they did not get visa easily. They advocated for a liberal visa regime between the two countries.
Kin plan to meet Sushma seventh time
Jalandhar, November 28
The families of the youths abducted in Iraq today said they were planning to seek an appointment with Union External Affairs Minister Sushma Swaraj in New Delhi. They said it would be their seventh meeting with the minister after the crisis. The families appeared angry as the minister did not disclose to them that Harjit Masih, who fled captors, was in government custody.
Youth hurt in cross-fire near Attari station
Amritsar, November 28
A youth, Bittu, was critically injured in a cross-fire in the vicinity of the Attari Railway Station today. Another youth, Saleem, was arrested by the police after a search operation. Both are residents of Attari village. Their accomplice fled. Bittu was rushed to Guru Nanak Dev Hospital here in a critical condition.
Tarn Taran case: Missing key eyewitness traced
Tarn Taran, November 28
Jagjit Singh, key eyewitness in the Tarn Taran assault case, has been traced. A TV channel in Delhi aired his interview today. Jagjit Sing was reported missing from his residence last Friday under strange circumstances. He was upset at his photography business not doing well with residents reluctant to hire him because of the escorting security guards provided to him on the directions of the Supreme Court. Dalbir Singh, his nephew, said they were relieved to find him safe and sound. Ramandeep Kaur, Jagjit's wife could not be contacted. — OC
Punish riot guilty: MP
New Delhi, November 28
Shiromani Akali Dal MP Prof Prem Singh Chandumajra has demanded that action be initiated against 376 persons who had been named in the Nanavati Commission report on the 1984 anti-Sikh riots. Raising the matter in Parliament, Chandumajra, MP from Anandpur Sahib, claimed 376 persons had been identified, and that they should face trial for their role in the killings that left more than 3,000 persons dead. The MP also sought the release of prisoners who had been held captive beyond their jail term. — TNS
PSEB gears up to check cheating
Ferozepur, November 28
The Punjab State Education Board (PSEB) in coordination with the State Council for Education Research and Training organised a zonal conference in a bid to prevent cheating during examinations in schools across the state. Over 600 school heads from Ferozepur, Fazilka, Faridkot and Moga districts participated in the event. Shruti Shukla, state convener, Anti-Copying Campaign, talked about measures undertaken by the board to check cheating. — OC

Acid attack: Victim's father writes to SSP
Moga: Investigating officer in the Moga acid attack case has turned hostile. The victim's counsel claimed that Assistant Sub-Inspector Gulzar Singh had tried to protect the accused in his statement before the court. The victim's father, has filed an affidavit before the court and the SSP, alleging that the investigating officer had demanded Rs 50,000 from him for a "favourable statement". — TNS


Two policemen among 11 booked for bid to murder
Moga, November 28
An Assistant Sub-Inspector and a Head Constable are among 11 persons booked for allegedly trying to kill a scrap dealer at Kot-ise-Khan town in Moga district. Kapil Dev Sharma was admitted to a private hospital in Amritsar.