EARLIER COLUMNS
Magic of being Mahima
August 20, 2000
Delightful duo
August 13, 2000
This Papa is really great!
August 6, 2000
Raving about Raveena
July 30, 2000
Akshay-Shilpa: Are they, aren't they ?
July 23, 2000
This 'Kunwara' is crazy
July 16, 2000
A star from overseas
July 9, 2000
There's no 'fixing' Saif!
July 2, 2000
'Hit-man' Salman
June 25, 2000
A fine example, indeed
June 18, 2000
Hrithik was 'matchless'
June 11, 2000
Shrewd Shah Rukh?
June 4, 2000
Urmila is queen of the Jungle
May 28, 2000

Twinkle's a toughie!
Most of Bollywood's heroines are a terribly disappointed lot, y'know. Here they were, all ready 'n' set (some with specially bought hankies, even!) and pre-prepared li'l speeches to go and "console" Twinkle Khanna over her split with Akshay Kumar. ("That man is a louse!" "He has no respect for women." "Akshay will be best off to return to Bangkok — the incorrigible womaniser!" being a few sic samplers.
And what do you think happened? Nothing, that's what! The so-called "heartbroken" and "shattered" "poor girl" Twinkle is having a whale of a time — partying, discoing, living it up... like someone who's had the last laugh. "Poor girl"? Hey! This stunner is looking like a million dollars! Could it be that She ditched Akki — and not the other way round? Wow! Twinks is a real toughie!
Bebo-Babs strike!
A terrifying twosome has emerged in Mumbai, giving heroines either sleepless nights or nightmares! No, I'm not in touch with some new, big chhotta don from the underworld; the twosome I'm talking about are one hundred per cent citizens of the 'overworld' — Bollywood, that is. And (hold your breath) they are none other than Kareena Kapoor and mum Babita Kapoor!
Yes, it's true, I'm 'afraid'. The deadly Bebo-Babs combo has been sneaking films away right from under the bewildered leading ladies' noses without as much as a courteous "by-your-leave" muttered asides! To date, the heroines left haplessly astounded 'n' agape include queen bee Aishwarya Rai, Preity Zinta, Rani Mukherjee and even (sister) Karisma Kapoor!
Dear me, is there a no holds barred, off-limits star war out there when Bebo-Babs decide to strike? And I fail to understand how they're pulling it off time after time, huh? At this (fearsome) rate, I shan't be at all surprised if, very soon, 'green-eyed' Ms Kapoor starts to being (respectfully) referred to as Chhotti Beboji!
Amazing Anuradha
Believe me, it was truly a grand evening out when Super Cassettes Industries guys held a press conference at the brilliantly lit Hotel Sea Princess, Juhu, for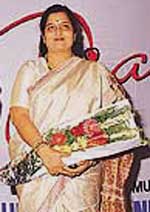 one-to-one rap session with the amazing Anuradha Paudwal — a woman who looks so fetching and sings even more beautifully! The bash was to felicitate her on the release of her new, solo album: Ishq hua. Rather apt, that !
Talking to mediapersons, Anuradha was all smiles while answering all kinds of questions — including some awkward ones! In turn, her charming responses had everyone smiling like, at one time, she quipped: "Look, I love to sing for films and I really want to do more of it... but music directors don't give me enough breaks!"
Incidentally, Ishq hua has eight great numbers sung wonderfully by Anuradha and is a 'super' album (caught the pun?) with this gifted singer having given it all she's got, which isn't too much — it's three much! Here's looking forward to more (and more) of Anuradha Paudwal.