IN PASSING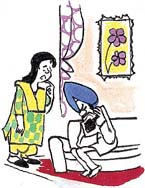 No vigilance raid, no investigation, no arrest orders. This may be a conspiracy to ruin your political career!

by Sandeep Joshi
Raids at houses of Tota Singh's kin
Moga, June 15
The Vigilance Bureau, with the help of the local police, today raided several places in Nihal Singh Wala, Badhni Kalan and here looking for close associates and members of the family of former Education Minister and MLA Tota Singh.
Petrol, diesel prices hiked
Mumbai, June 15
The state-owned Indian Oil Corporation, Bharat Petroleum and Hindustan Petroleum have decided to raise the retail selling prices of petrol and diesel by 23 to 30 paise per litre, effective tonight.



Coal crisis hits thermal plants
Ropar, June 15
In the wake of a rapidly deepening coal crisis in the thermal plants of the state, Punjab may face major power cuts and closure of some thermal units by the end of June if timely steps are not taken by the PSEB management. Today, all three thermal plants have limited coal stocks which are sufficient for just four to 10 days.
India rules out foreign troops for Kashmir
June 15, 2002

Congress falls into line on Abdul Kalam
June 14, 2002

USA offers ground sensors for LoC
June 13, 2002

Front splits as SP supports Kalam
June 12, 2002

India lifts ban on Pak flights
June 11, 2002


Geelani arrested under POTA
June 10, 2002


UAV goes missing
June 9, 2002


India to wait & watch
June 8, 2002


Battered staffer returns home
June 7, 2002


India ready for joint patrolling on LoC: PM
June 6, 2002


India rejects third-party mediation
June 5, 2002