THE TRIBUNE MAGAZINES
On alternate Mondays

On Sundays
On Saturdays

IN PASSING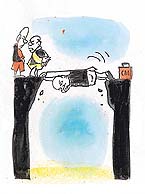 The BJP in Himachal is heading for a major crisis over the issue of creating new districts!
by Sandeep Joshi
Sidhu offers to resign


File affidavit, says Supreme Court
New Delhi, August 12
The suspended Punjab Public Service Commission (PPSC) Chairman, Ravinder Pal Singh Sidhu, expressed his desire to resign from the post on his own before the Supreme Court here.
Badal slaps 2 cases on Amarinder
Seeks Rs 5 cr in damages
Chandigarh, August 12
Former Punjab Chief Minister and SAD President Parkash Singh Badal today filed a criminal complaint and a defamation suit against the Punjab Chief Minister, Capt Amarinder Singh, accusing him of spreading and publishing false reports about his assets and properties. Mr Badal also sought damages of Rs 5 crore.
MBBS (1st prof) results withheld
Alleging tampering, examiner puts foot down
Amritsar, August 12
Baba Farid Health University has withheld the results of 150 students of MBBS (first professional) of the local Government Medical College following a tussle between two internal examiners over the signing of "extra award lists". The results of other medical colleges were declared on Friday.


Onus on India to clear brown cloud: experts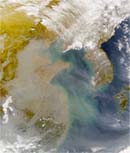 London, August 12
The woman burning cow dung to cook her meal in her slum tenement could be engaging in slow suicide and also taking a small step towards killing her environment and people around her.
Gujarat situation quite delicate: CEC
August 12, 2002

Hurriyat sticks to poll boycott decision
August 11, 2002

President to visit Gujarat on Aug 12
August 10, 2002

Poll not yet: EC report
August 9, 2002

BJP takes wind out of Cong attack
August 8, 2002

Ultra massacres 9 yatris
August 7, 2002

PM cancels petrol station allotments
August 6, 2002

Rs 714.20-cr drought relief announced
August 5, 2002

BJP projects Advani as next PM
August 4, 2002

J&K poll in Sept, Oct
August 3, 2002