HOROSCOPE
THE TRIBUNE MAGAZINES
On alternate Mondays

On Sundays
On Saturdays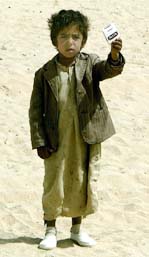 A boy offers a pack of cigarettes to a passing US Army convoy in the desert in southern Iraq after US troops crossed the Kuwait-Iraq border on Friday. — Reuters
US copter crash kills 12 soldiers
Washington, March 21
A US Marine helicopter crashed in Kuwait today, killing the eight British and four American soldiers aboard, military officials said. The cause of the crash was under investigation, the officials said, adding that hostile fire had not been reported in the area. Earlier, US officials had said 12 Britons and four Americans had died.
Anti-war protests swell around world
Boston, March 21
Galvanised by the American attack on Iraq, anti-war activists set off a barrage of street protests around the world, clashing with riot police, chaining themselves together, blocking traffic, walking out of classes and parading in mock chemical suits. Hundreds were arrested from San Francisco to Washington, DC, yesterday.
Govt denotifies protected Ram Bagh
Paves way for Rs 5-crore Ranjit Singh panorama
Amritsar, March 21
The Punjab Government has de-notified part of historic Ram Bagh, the summer capital of Maharaja Ranjit Singh, to pave the way for the construction of Rs 5 crore panorama in memory of the Maharaja. In the notification, the 20-kanal "protected" area has been rendered "unprotected".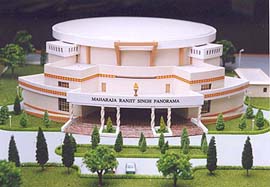 A model of Maharaja Ranjit Singh Panorama prepared by the National Council of Science Museum. — Photo Rajiv Sharma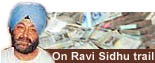 US WAR ON IRAQ HAS BEGUN
March 21, 2003
Saddam put on 48-hour notice
March 19, 2003
War clouds thicken; USA, UK shed diplomacy
March 18, 2003
11 killed in attack on police post
March 17, 2003
Excavation leads to mosque floor
March 16, 2003
Gujarat tense; 10 hurt in Muharram violence
March 15, 2003
SC: poll reforms law unconstitutional
March 14, 2003
PM against war without UN nod
March 13, 2003
Jaswant rolls back urea price hike
March 12, 2003
5 more join Punjab Ministry
March 11, 2003