THE TRIBUNE MAGAZINES
On alternate Mondays

On Sundays
On Saturdays
IN PASSING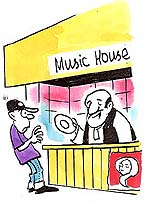 Madonna, Baba Sehgal are out, try CDs on Mayawati, Mulayam...

by Sandeep Joshi
Snag delays INSAT-3A launch
Bangalore, April 9
The multi-purpose Indian national satellite INSAT-3A will be launched into space by Ariane 5G in the early hours tomorrow after a day's postponement due to an anomaly in a transmitter of the satellite. The Indian Space Research Organisation announced this evening that the launch would take place between 4.19 am and 5 am IST tomorrow.
All clear for Haryana online lottery
Chandigarh, April 9
Decks have been cleared for the much-publicised online lottery in Haryana following negotiations between a high-level official committee and the representatives of five companies who had responded to the Haryana Government's invitation.


Jammu migrants twice cursed
First bullets, now government apathy
Jammu, April 9
About 400 families of Hindu, Muslim and Sikh migrants from terrorism-hit districts of Rajouri, Poonch and Doda in Jammu division are living in a miserable condition on the banks of the Tawi at Belicharana here.
A migrant from Rajouri, Begum Jehan, cooks food outside her shanty in Jammu. — Photo Sarabjit Singh
Allies hound Saddam with bunker-buster bombs
April 9, 2003
US forces seize Saddam's palace
April 8, 2003
US plane lands at Baghdad airport
April 7, 2003

US tanks roll into Baghdad
April 6, 2003

Allies seize Baghdad airport
April 5, 2003
Baghdad airport attacked
April 4, 2003
Allies close in on Baghdad
April 3, 2003

Allies kill 11 unarmed Iraqi civilians
April 2, 2003

Al Qaida-Iraq nexus exposed
April 1, 2003

Suicide attack on US base
March 3

1

, 2003