THE TRIBUNE MAGAZINES
On alternate Mondays

On Sundays
On Saturdays
IN PASSING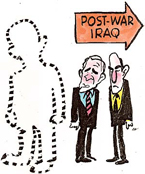 Who will fill this vacuum?
by Sandeep Joshi
TRIBUNE EXCLUSIVE
Did murder suspect Maninder visit Chandigarh?
Chandigarh, April 10
Did Maninderpal Singh Kohli, wanted by Scotland Yard in an abduction-rape-murder case, visit Chandigarh last month? "Yes", says his brother, Mr Ishtpal Singh Kohli, maintaining that "Maninder had come to visit his mother, who has been in coma since December last year. He came here on March 19.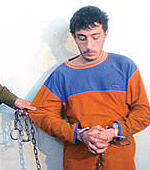 Ultra involved in Nadimarg killings held
Srinagar, April 10
The police here claimed to have achieved a major success today with the arrest of a top militant of the Lashkar-e-Toiba outfit allegedly involved in the killing of 24 non-migrant Kashmiri Pandits at Nadimarg in south Kashmir on March 23 last.

Handcuffed Lashkar-e-Toiba militant Zia Mustafa at police headquarters in Srinagar on Thursday. — Tribune photo Amin War

Pak may play key role in Taliban regrouping
New Delhi, April 10
Pakistan may play a vital role in the regrouping of the Taliban forces holed up in its various cities, especially after the reports of tension rising between Kabul and Washington due to the increased number of civilian killings by the US-led allied forces based in Afghanistan.
Resolution on cow slaughter ban adopted
New Delhi, April 10
Amidst turmoil and opposition walkout, a private member's resolution, moved by a BJP member, seeking ban on cow slaughter was adopted in the Lok Sabha today.


Regularisation policy formed
Relief to property promoters
Chandigarh, April 10
The Haryana Government today announced a policy for regularisation of unauthorised constructions in areas falling under the Faridabad Municipal Corporation. The policy, based on the recommendations of a five-member subcommittee headed by the Town and Country Planning Minister, Mr Dhirpal Singh, was approved by the Haryana Cabinet, which met here today under the chairmanship of Chief Minister Om Prakash Chautala.
In Career Guide today
Looting erupts in Baghdad
April 10, 2003
Allies hound Saddam with bunker-buster bombs
April 9, 2003
US forces seize Saddam's palace
April 8, 2003
US plane lands at Baghdad airport
April 7, 2003

US tanks roll into Baghdad
April 6, 2003

Allies seize Baghdad airport
April 5, 2003
Baghdad airport attacked
April 4, 2003
Allies close in on Baghdad
April 3, 2003

Allies kill 11 unarmed Iraqi civilians
April 2, 2003

Al Qaida-Iraq nexus exposed
April 1, 2003

Suicide attack on US base
March 3

1

, 2003