Nation page: Debate exposed Opposition, says BJP
Lok Sabha Speaker Manohar Joshi listens to the debate on the no-confidence motion brought by the Congress in Parliament, on Tuesday and (right) Prime Minister Atal Bihari Vajpayee.
— PTI (TV image)
Sushma takes on Sonia point by point
New Delhi, August 19
Parliamentary Affairs Minister Sushma Swaraj today refuted Congress charges on the NDA government's failure and took a dig at Congress President Sonia Gandhi by launching a point by point rebuttal of her observations on undermining parliamentary democracy, misuse of institutions, and issues related to foreign policy and national security.
One bridge, 2 inaugurations
Chandigarh, August 19
The Rs 34.82-cr bridge on the Beas river at Naushera Pattan on the Gurdaspur-Mukerian road will have two inaugurations — one by the Union Minister of State for Surface Transport and National Highways, Mr Sripad Naik, tomorrow (August 20) and the second by the Punjab Chief Minister, Capt Amarinder Singh, a day later (August 21).
UN envoy killed in Baghdad blast
Baghdad, August 19
A massive car bomb devastated the UN headquarters here today, killing at least 20 persons and wounding dozens of others, including the top UN representative in Iraq, witnesses and officials said.
In Health Tribune today
HOROSCOPE
THE TRIBUNE MAGAZINES
On alternate Mondays

On Sundays
On Saturdays
IN PASSING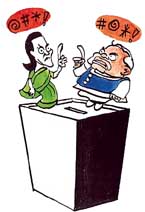 by Sandeep Joshi
India dismisses Pak charge on terrorist camps
New Delhi, August 19
India today dismissed as 'absurd' Pakistan's charge that it was running more than 55 militant training camps to carry out subversive activities against Pakistan, and asked Islamabad to 'think, act and speak responsibly'.
India in no mood to announce more concessions to Pakistan
New Delhi, August 19
The Vajpayee government is in no mood to announce more concessions to Pakistan for the sake of improving bilateral relations, sources in the Ministry of External Affairs said today.


Attorney-General's help sought in Pak prisoners case

Baddi Coke plant fined for contamination
Moga, August 19
The Moga District Consumer Disputes Redressal Forum has directed a Coca Cola bottling plant to pay more than Rs 1 lakh in fines and damages for releasing in the market a contaminated batch of soft drinks.


Kin of militants held with AK-47s
Used them for looting, robberies
Amritsar, August 19
In a significant recovery, two AK-47 rifles, three magazines and 56 live cartridges were seized by the police with the arrest of three persons near Mianpur under Sarai Amanat Khan police station, about 30 km, from here today morning.

In video (28k, 56k)


Manjinder Singh (right), Gurbhej Singh (centre) and Lakhwinder Singh, who were arrested by the police with two AK-47 rifles and live cartridges in Amritsar on Tuesday.
— Photo Rajiv Sharma
Oppn charges govt with all-round failure
August 19, 2003
Battlelines drawn for no-trust vote
August 18, 2003
'Bought brides' of Punjab face societal wrath
August 17, 2003
PM invites Pak for walk on peace road
August 16, 2003
SC bans capitation fee in private professional colleges
August 15, 2003
2 killed, 50 hurt in Kashmir blasts
August 14, 2003
Musharraf proposes ceasefire along LoC
August 13, 2003
27 feared dead in ONGC copter crash
August 12, 2003
Vajpayee throws quota ball in Congress court
August 11, 2003