---
---

CBI quizzes UP officials
Taj Corridor row
Lucknow, August 24
Investigating the Taj Corridor controversy on a Supreme Court directive, the CBI questioned Uttar Pradesh Environment Director I.P. Singh and other officials on the funding of the controversial project and collected documents pertaining to it.

19 Pakistanis detained in Canada
Toronto, August 24
Canada has detained 19 men of Pakistani origin alleging that they entered the country on false documents and trained in flying aircraft over sensitive nuclear sites. The Public Security and Anti-Terrorism Unit arrested the men saying they had obtained false student visas.
HOROSCOPE
THE TRIBUNE MAGAZINES
On alternate Mondays

On Sundays
On Saturdays
Afghanistan new target of Pak's proxy war
New Delhi, August 24
It is not just India which finds itself at the receiving end of Pakistan's proxy war but Islamabad's new strategy puts its another neighbour — Afghanistan — on the hit list of the Pakistani Mullah-Military Alliance.

Leander Paes out of danger
New Delhi, August 24
Star tennis player Leander Paes is totally out of danger after the cyst found in his brain was diagnosed as a parasitic infection.
Ex-soldier denied pension for 32 years

Kathua, August 24
Sitting at the home for the aged here, 68-year-old former soldier V.K. Abrol has pinned all hopes on the National Human Rights Commission, which has stepped in to get his pension released from the Defence Ministry which has been withholding it for the past nearly 32 years.
Togadia keeps mandir issue alive
Chandigarh, August 24
The firebrand Vishva Hindu Parishad leader, Dr Parveen Togadia, on his first visit to the city refrained from directly hitting at the BJP-led government on the issue of legislation on the Ayodhya mandir and the uniform civil code.


Chandigarh page: Sword-wielding Togadia's men ruled the day


Pear trees being uprooted following distress sale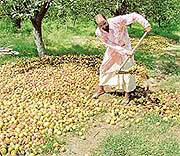 Patti (Amritsar), August 24
The pear trees, grown in this border town before partition, are being uprooted following distress sale of the produce.

Unsold fruit rotting in pear gardens of Patti subdivision in Amritsar district. The fruit is being dumped by digging pits so as to prevent spread of any disease.
— Photo Rajiv Sharma

In Agriculture today
In Log in... Tribune today
Centre clears new pension scheme
August 24, 2003
Sushma Swaraj clears the air
August 23, 2003
Sushma Swaraj gives clean chit to Pepsi, Coke
August 22, 2003
20 hurt as police clashes with Khanna supporters
August 21, 2003
No-trust motion defeated
August 20, 2003
Oppn charges govt with all-round failure
August 19, 2003
Battlelines drawn for no-trust vote
August 18, 2003
'Bought brides' of Punjab face societal wrath
August 17, 2003
PM invites Pak for walk on peace road
August 16, 2003
SC bans capitation fee in private professional colleges
August 15, 2003