HOROSCOPE
Two terrorists of Jaish-e-Mohammad killed in Delhi
New Delhi, August 30
After the encounter in Srinagar this morning, threat to the Capital was also exposed when the Delhi police captured a truck full of explosives and weapons in the Central Delhi and later killed two Jaish-e-Mohammad terrorists.

In video (28k, 56k)

Nalagarh, August 30
At least 12 persons, including women and children, were feared to have been washed away when a Punjab Roadways of the Ropar depot was swept away in a flash flood in the seasonal rivulet, Sarsa Nadi.
Villagers rescue a woman passenger of the Punjab Roadways ill-fated bus which was washed away in a flash flood in Sarsa Nadi, near Nalagarh, Himachal Pradesh, on Saturday evening. — Tribune photo Manoj Mahajan
Send VC on leave, says council
Shimla, August 30
Virtually showing the door to Dr S.D. Sharma, Vice-Chancellor, the Executive Council of Himachal Pradesh University today recommended to the Governor, Mr V.S. Kokje, that the Vice-Chancellor should be asked to proceed on leave immediately.
In Her World today
NIIT to enter formal education sector, says Mr Rajendra S. Pawar, Chairman NIIT, in an exclusive interview which appears on Business page

THE TRIBUNE MAGAZINES
On alternate Mondays

On Sundays
On Saturdays
UK lab finds cola samples safe
New Delhi, August 30
Taking heed of the public outcry following the CSE expose on soft drinks, the Central Government has issued a draft amendment notification of the Prevention of Food Adulteration Rules, 1955, to regulate beverages, fish and other food products even as the Central Food Laboratory report today said six brands of PepsiCo and Coca-Cola in India contained pesticide residues exceeding European Union norms.
WTO okays deal on cheap drugs to poor nations
Geneva, August 30
The World Trade Organisation today approved a deal to ensure that poor countries have access to cheap drugs to fight killer diseases, resolving a long-standing dispute, after developing countries, including India, decided to back it, a WTO spokesman said.
USA turns to India on power cuts!
London, August 30
Believe it or not, the USA is seeking India's advice on managing electricity blackouts. There was a major power failure in north-east America this month, while London was plunged into chaos on Thursday night following failure in the national grid.


Indian prisoner released by Pak, reaches Wagah
Wagah (Amritsar), August 30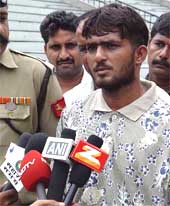 Ranjit Kumar (20), an Indian and a resident of Karyal village (Jammu region), today crossed over to India through Wagah checkpost after more than four years of imprisonment in Pakistan jails.

In video (28k, 56k)

Nineteen-year-old Indian prisoner Ranjit Kumar, freed by Pakistan, talks to mediapersons at the Indo-Pak Wagah joint check-post on Saturday. — Tribune photo Rajiv Sharma

582-cr package for J&K
August 30, 2003
Article 356 to be used only with safeguards
August 29, 2003
39 killed in Nashik stampede
August 28, 2003
Mayawati resigns, Mulayam stakes claim
August 27, 2003
Mumbai panics as twin blasts kill 46
August 26, 2003
Mufti for opening of border posts
August 25, 2003
Centre clears new pension scheme
August 24, 2003
Sushma Swaraj clears the air
August 23, 2003
Sushma Swaraj gives clean chit to colas
August 22, 2003
Police clashes with Khanna supporters
August 21, 2003