THE TRIBUNE MAGAZINES
On alternate Mondays

On Sundays
On Saturdays
IN PASSING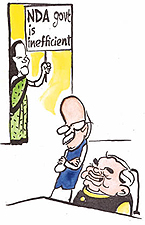 Nothing new. Even our 'parivar' has been saying it.

by Sandeep Joshi
SC: don't suspect statements of witnesses with minor variations
New Delhi, October 20
Plugging a major loophole in trial proceedings, the Supreme Court has ruled that mere variations in statements of witnesses during the course of the trial without altering the facts of the case should not be a ground for disbelieving them.
Daler's plea turned down again
New Delhi, October 20
The Delhi High Court again turned down the plea of Punjabi pop star Daler Mehndi today for protection against arrest in the human trafficking case till the decision on his anticipatory bail plea and deferred the hearing till tomorrow on it.
Panchhi's brother held, remanded
Jalandhar, October 20
In the ongoing probe into Sukhwinder Panchhi case today two more complainants told the police that after failing to ensure immigration of their wards to a western country under the garb of a cultural troupe, the singer had issued cheques worth more than Rs 1 lakh to each of them to return the money.
Punjab page: Save singers from stigma, says Hans

India for talks with Pak on air links
New Delhi, October 20
India is willing to have a second round of discussions with Pakistan for restoring civil aviation links, provided it came with an "open mind" and looked at "other steps" later, Foreign Secretary Kanwal Sibal has said.


Cross-border marriage at Qadian on Oct 31
Qadian, October 20
The sada-e-sarhad will bring a special guest from Pakistan in the last week of this month. Tahira, a resident of Faislabad (Pakistan), will perform 'nikah' with a local correspondent of a national daily, Maqbool Ahmed (33), here on October 31. This will be the first cross-border marriage after the attack on Indian Parliament in 2001.
IN FOCUS

In our series, the state of medical institutions, Senior Staff Correspondent Pratibha Chauhan examines the functioning of Maharaja Agrasen Institute of Medical Research and Education, Agroha (Hisar), on Edit page.
Pope beatifies Mother Teresa
October 20, 2003

2 holed-up militants shot dead
October 19, 2003

Militants attack Mufti's house
October 18, 2003

VHP men to be allowed darshan
October 17, 2003

Allow VHP programme, Advani asks Mulayam
October 16, 2003

Tension mounts in Ayodhya
October 15, 2003

VHP leaders go underground
October 14, 2003

Faizabad sealed off
October 13, 2003

2,000 Shiv sainiks held in Ayodhya
October 12, 2003

300 Shiv Sainiks held in Ayodhya
October 11, 2003