THE TRIBUNE MAGAZINES
On alternate Mondays

On Sundays

On Saturdays

IN PASSING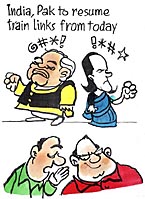 They should start another 'Samjhauta Express' between 7 Race Course and 10 Janpath also.
by Sandeep Joshi
(Click to enlarge)
India, Pak to expand mission strengths

Opinions page: Tread with caution

Bahrain hails Indo-Pak peace progress
Cong asks PM to clarify US role in talks with Pak
Nation page: India should not be party to US game, says CPM

World page: Cooperation with India not to hit US-Pak ties: Rumsfeld

Plundered village sees ray of hope
Pawar for poll pact with Congress
Sangma revolts, may go to NDA
New Delhi, January 14
Despite a revolt in his party, Nationalist Congress Party leader Sharad Pawar will go ahead with the earlier plan to forge an electoral tie-up with Congress President Sonia Gandhi. He was authorised by his party tonight to take a decision on the issue of alliances.
Lok Sabha dissolution likely in February
New Delhi, January 14
The Lok Sabha is likely to be dissolved on February 6 after a Vote-on-Account during a four-day brief session of Parliament beginning on February 3.
George hurt in mishap
Biharsharif (Bihar), January 14
Defence Minister George Fernandes today escaped with minor injuries in the head and legs when his car crashed into a stationary truck near Nagarnausa in Bihar's Nalanda district due to poor visibility.
'Akash' missile test-fired
Balasore (Orissa), January 14
Medium-range surface-to-air missile ''Akash'' was successfully test-fired from the Integrated Test Range (ITR) at Chandipur-on-sea for the second consecutive day today. — UNI
15-yr-old 'sold off', raped
Madhuban (Karnal), January 14
A case of allegedly buying and then raping a 15-year-old Dalit girl by some persons has come to light. The main accused has been arrested, while the hunt was on for at least 10 other co-accused. As per information available, Neetu (name changed) was living with her cousin at Hardwar in Uttaranchal. On December 29, 2003, she came to Ambala with a woman living in their neighbourhood in a rented house.
Indo-US relations set for a new high
January 14, 2004


Let new govt be in place by April, says PM
January 13, 2004

LS poll may be in March or May
January 12, 2004

Decision on LS poll by Jan 14, says Mahajan
January 11, 2004
Government doles out more concessions
January 10, 2004

Pre-poll tax sops target middle class
January 9, 2004

Unorganised sector gets social security
January 8, 2004

Pervez promises end to terror
January 7, 2004

Vajpayee meets Musharraf
January 6, 2004

India, Pak avoid Kashmir at SAARC
January 5, 2004