In Her World today
THE TRIBUNE MAGAZINES
On alternate Mondays

On Sundays

On Saturdays

Sangma, Mamata set aside differences to join hands
New Delhi, March 13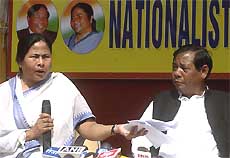 In spite of differences on Sonia Gandhi's foreign origin issue, P.A. Sangma-led faction of the NCP today merged with Mamata-Banerjee-led AITC to form a new party to contest the Lok Sabha poll.


In video (28k, 56k)
AITC President Mamata Banerjee holds a sheaf of papers as she addresses a joint press conference with NCP leader P.A. Sangma in New Delhi on Saturday. — AFP photo

BSP, SP rule out truck with Cong
Lucknow, March 13
It was a day of Congress bashing in Uttar Pradesh. On the one hand the BSP ruled out any alliance with the Congress for the coming Lok Sabha elections, while on the other, the SP suggested that if the Congress wanted it could walk out of the ruling alliance in the state.
Days of coalitions numbered, says Sonia


New Delhi, March 13
Congress President Sonia Gandhi today virtually gave credit to the Vajpayee government's peace initiative with Pakistan when she said the process would be taken forward if her party was voted to power.
PTU implements 24-credit-rule system
Jalandhar, March 13
The Board of Governors of Punjab Technical University has implemented the 24-credit-rule system for the 2001 batch students of engineering colleges in the state.
All govt hoardings to be removed in Haryana
Panchkula, March 13
Thousands of hoardings, wall paintings and advertisements highlighting the achievements of the Chautala government in the state will be removed by early next week.


Death stalks Jajjal village in form of drinking water
Chandigarh, March 13
The water they drink has been squeezing the life out of them . And they have been crying from the rooftop that potable water should be made available to them but their wails have gone unheard. Such is the fate of residents of Jajjal village, near Talwandi Sabo, in Bathinda district.
Ten Sports to beam Karachi tie on DD
March 1

3

, 2004
J&K House adjourned sine die
March

12

, 2004
Sourav leads boys into Lahore
March

11

, 2004
Remove hoardings
March

10

, 2004
Second thoughts on J&K daughters' Bill
March

9

, 2004
Qazi blames Jaish for attack on Parliament
March

7

, 2004
BJP balances RSS, NDA visions in poll manifesto
March 6, 2004
Pak Gen offered N-help to Nigeria
March

5

, 2004
6 killed in Jammu jail attack
March

4

, 2004
Blasts in Iraqi mosques leave 140 dead
March

3

, 2004