PUNJAB
HARYANA
JAMMU & KASHMIR
HIMACHAL
REGIONAL BRIEFS
NATION
OPINIONS
MAILBAG
BUSINESS
SPORTS
WORLD

Saturday, May 1, 2004, Chandigarh, India
Updated at 3:00 am (IST)

Prisoners can't contest elections
Patna High Court tells EC
Patna, April 30
In a significant order, the Patna High Court today directed the Election Commission to consider countermanding elections in constituencies contested by prisoners, whose voting right had been suspended under the election laws.
CAST YOUR VOTE
Do you think first-time voters matter in the ongoing elections?

AGRICULTURE
EDUCATION
HEALTH
SCIENCE & TECHNOLOGY
CAREER GUIDE
SPORTS
HER WORLD
TRIBUNE CLASSIFIEDS
BRIDES WANTED
GROOMS WANTED
OTHERS
HOW TO PLACE ADVTS
Valley has snow in April after 36 years
Srinagar, April 30
For the first time in 36 years, the Kashmir valley witnessed snowfall in this season today.
Kashmiris walk with colourful umbrellas as snow falls in Srinagar on Friday. — Tribune photo by Amin War


Punjab page
Rain, hailstorm damage cotton crop, stored wheat

Videotape polling in PM's constituency: EC
DD told not to screen films of contesting actors
New Delhi, April 30
Concerned over the large-scale violence and electoral malpractice during polling, the Election Commission today ordered videography in 14 sensitive constituencies in Uttar Pradesh including Lucknow from where Prime Minister Atal Bihari Vajpayee is contesting and also ordered repoll in 25 polling stations in Siwan, Bihar, tomorrow which witnessed large-scale violence during the second phase of polling.
In Career Guide today
THE TRIBUNE MAGAZINES
On alternate Mondays

On Sundays

On Saturdays

IN PASSING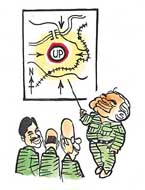 Charlie, at 0137 hours, attack target UP from 20 degree north and 45 degree west...

by Sandeep Joshi
(Click to enlarge)
Nation page: Vajpayee woos Muslims

Sinha goes on leave; Verma gets Home
Chandigarh, April 30
With just 10 days to go for the Lok Sabha elections , the Home Secretary of Punjab, Mr Sanjit Kumar Sinha, has proceeded on leave, sources in the State Government confirmed tonight. Financial Commissioner P K Verma has been given the additional charge of the Home Department for the period during which Mr Sinha remains on ex-India leave.
Transfer of 25 HC judges not considered
New Delhi, April 30
The collegium of Supreme Court judges has not considered the transfer of any of the Punjab and Haryana High Court judge in the wake of 25 them going on mass leave recently in protest against the style of functioning of the Chief Justice Mr B K Roy, sources said here today.
Nation page:
Justice Babu to be sworn in as CJI tomorrow
One more cop held in paper leak case
New Delhi, April 30
In yet another arrest, the Central Bureau of Investigation has nabbed a Delhi police constable who was allegedly making threatening calls to Mr Ranjit Verma's family on behalf of Crime Branch Sub-Inspector Sanjay Gupta who was also arrested by the sleuths yesterday.
Doctor held in Kanpur in paper leak case

Editorial: Leaking system
Senate India Caucus to improve Indo-US ties
A handful of influential US Senators launched the Senate India Caucus on Capitol Hill yesterday with a promise to further US-India relations. The caucus, co-chaired by Senator Hillary Rodham Clinton, New York Democrat, and Senator John Cornyn, Texas Republican, has 32 members.


In video: (28k, 56k)


Babbar Khalsa, ISYF on US terrorist list
Prohibits travel to US by their members
THE Bush administration on Thursday designated the Babbar Khalsa International and the International Sikh Youth Federation (ISYF) "terrorist organisations for immigration purposes." The designation puts the groups on a "terrorist exclusion list," prohibits travel to the US by their members and freezes their assets.

In Education Tribune today
EC team to probe Chapra violence
April

30

, 2004
Ultras attack NC rally in Doda
April 29, 2004
Exit polls send sensex nosediving
April 28, 2004
Eight killed in poll violence
April 27, 2004
Grenade attack at Mehbooba's rally
April 26, 2004
Campaigning for second phase poll ends
April 2

5

, 2004
Ultras attack Cong HQ in Srinagar, 12 injured
April 2

4

, 2004
EC seeks explanation on Finance briefing
April 23, 2004
Suicide bombers kill 68 in Iraq
April 22, 2004
55 pc cast vote, 17 killed
April 21, 2004
Punjab & Haryana HC in deep crisis
April 20, 2004
Kalam asks countrymen to vote 'positively'
April 19, 2004