PUNJAB
HARYANA
JAMMU & KASHMIR
HIMACHAL
REGIONAL BRIEFS
NATION
OPINIONS
MAILBAG
BUSINESS
SPORTS
WORLD

Sunday, July 11, 2004, Chandigarh, India
Updated at 3:00 am (IST)

Bhattal divested of Agriculture
Amarinder keeps 18 portfolios


Chandigarh, July 10
While allocating the portfolios afresh, after downsizing the Council of Ministers, the Chief Minister, Capt Amarinder Singh, has changed the portfolios of the Deputy Chief Minister, Mrs Rajinder Kaur Bhattal.

CAST YOUR VOTE
Will Chidambaram's Budget help small farmers?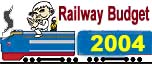 EDUCATION
JOBS & CAREERS
HEALTH & FITNESS
FORUM
SCIENCE & TECHNOLOGY
SPORTS
WOMEN
TRIBUNE CLASSIFIEDS
BRIDES WANTED
GROOMS WANTED
OTHERS
HOW TO PLACE ADVTS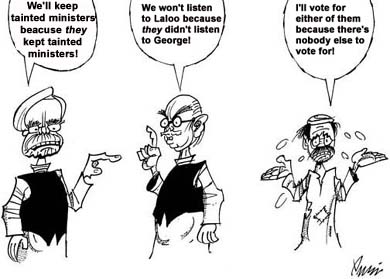 National ID-cards on anvil
New Delhi, July 10
The Centre is considering to issue multi-purpose national identity cards to all citizens. "Every person in the country will be provided national identity cards and given a unique national identity number," Home Minister Shivraj Patil said while inaugurating a seminar on Census data dissemination here.

In video (56k)

THE TRIBUNE MAGAZINES
On Sundays

On Saturdays

Troops kill 10 ultras; 34 hurt in Anantnag blast
Jammu/Srinagar, July 10
In a major success, the Army killed militants of the Pakistan-based Lashkar-e-Toiba in Poonch and Kathua districts today and seized a cache of arms and ammunition from them. One terrorist was apprehended at Machhedi in Kathua.
J&K page:
Protests against torture of student





A woman is taken for treatment after she was wounded in a grenade explosion on Saturday in Anantnag. Thirty civilians were wounded when suspected militants lobbed a grenade which missed the target. — Tribune photo by Amin War
Floods claim 56 lives, Army moves in
Guwahati/Patna, July 10
Floods continued to ravage the eastern and north-eastern states of Assam, Arunachal Pradesh, Bihar and North Bengal today, having claimed 56 lives and affected more than 2.7 million people in the four states so far.
Mishap averted, plane grounded
Polluted water causing genetic changes
Mahal (Amritsar), July 10
Residents of Mahal village — an urban fringe of the holy city of Amritsar near a sewage disposal drain — are getting polluted water. And a study conducted by Guru Nanak Dev University has shown DNA damage among residents. The study was aimed at assessing the geno-toxic effect and exposure to polluted groundwater.
In Women today
11 get life term for Mumbai blasts
July 10, 2004
IT exemption limit raised to Rs 1 lakh
July 9, 2004
Economic survey for overhauling tax system
July 8, 2004
Rail fares, freight rates untouched
July 7, 2004
Capt drops 10 ministers
July 6, 2004
22 killed as bus hits tree near Ferozepore
July 5, 2004
2 die, 35 hurt in blast near Mufti's residence
July 4, 2004
Kalam sacks Governors of Haryana, UP, Gujarat, Goa
July 3, 2004
PM brings relief for Andhra farmers
July 2, 2004
Tainted ministers to stay, asserts PM
July 1, 2004