PUNJAB
HARYANA
JAMMU & KASHMIR
HIMACHAL
REGIONAL BRIEFS
NATION
OPINIONS
MAILBAG
BUSINESS
SPORTS
WORLD

Wednesday, September 8, 2004, Chandigarh, India
Updated at 3:00 am (IST)

Natwar, Kasuri promise visa-free travel to journalists
New Delhi, September 7
External Affairs Minister K Natwar Singh and his Pakistani counterpart Khurshid Mehmood Kasuri played to the gallery this evening. They exhibited their newly-struck personal chemistry and made spontaneous announcements of a liberal visa-free regime for journalists of the two countries.


Kasuri visits Ajmer

Editorial: Tread with caution

J&K page: Kasuri fails to unite Hurriyat leaders

Kasuri's 'anti-India' stand ruffles BJP


CAST YOUR VOTE
Should there be a Jalandhar to Lahore petroleum pipeline?

EDUCATION
JOBS & CAREERS
HEALTH & FITNESS
FORUM
SCIENCE & TECHNOLOGY
SPORTS
WOMEN
TRIBUNE CLASSIFIEDS
Manmohan, Musharraf may meet on Sept 22
New Delhi, September 7
As the first round of 'composite dialogue' between India and Pakistan wound up here, Prime Minister Manmohan Singh and President General Pervez Musharraf could have their first meeting on September 22 on the sidelines of the UN General Assembly session in New York.




Manmohan Singh and Pervez Musharraf


Pak army to shift headquarters
Soren not released
Fails to give passport details
Jamtara (Jharkhand), September 7
Though a Dumka court today granted bail to the Jharkhand Mukti Morcha chief Sibu Soren in a case relating to election violence in 2004, he could not be released as he was unable to give his passport number to a Giridih court as demanded.


In video (28k, 56k)
Janmashtami celebrated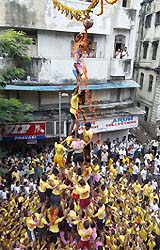 Mumbai, September 7
Human pyramids were formed to break 'dahi-handis' (curd pots) and people from all walks of life thronged temples since midnight last night to celebrate ''Janmashtami''.


In video (28k, 56k)



Curd flows as the top person of a human pyramid breaks a curd pot hung from a decorated rope between buildings on the occasion of Krishna Janmashtami, the birth anniversary of Lord Krishna, in Mumbai on Tuesday.
— AFP photo

In Health & Fitness Today
BRIDES WANTED
GROOMS WANTED
OTHERS
HOW TO PLACE ADVTS
THE TRIBUNE MAGAZINES
On Sundays

On Saturdays


Cong for fresh probe in Tehelka case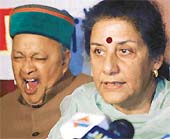 Shimla, September 7
The Congress is in favour of a fresh probe into Tehelka case on the pattern of Godhra carnage.

Congress leader Ambika Soni addresses a press conference at Shimla on Tuesday. Chief Minister Virbhadra Singh is also seen in the picture. — Photo by Anil Dayal


Haryana plans uniform power tariff
Chandigarh, September 7
The Haryana Cabinet, which met here today under the chairmanship of Chief Minister Om Prakash Chautala, decided to introduce a uniform rate of tariff for both metered and unmetered connections, thus withdrawing the slab system of tariff and giving relief to farmers to the tune of Rs 138 crore.


Business page: PHDCCI for Haryana power policy

Haryana page: Power-less wires could give Chautala a shock

114 die in China floods
Beijing, September 7
Floods and landslides triggered by torrential rains have killed at least 114 persons and left over 77 others missing in south-west China with the army being deployed to rescue thousands of marooned people, local officials said today.


World page: Typhoon pounds Japan; eight dead


ILLEGAL CREMATIONS
PM rules out China-type talks on Kashmir
September 7, 2004
Natwar, Kasuri hold positive talks
September 6, 2004
Ordinance soon to repeal POTA
September 5, 2004
150 die as commandos storm school
September 4, 2004
Fresh probe into Godhra fire ordered
September 3, 2004
PM's package for Amritsar
September 2, 2004
Politics overshadows celebrations
September 1, 2004
Sifti da ghar overflows
August 31, 2004
Pakistan says no to extradition treaty
August 30, 2004
Arunachal CM joins Cong with Cabinet
August 29, 2004
Bomb attacks, arson in Maharashtra; 18 hurt
August 28, 2004
Budget passed without debate
August 27, 2004