PUNJAB
HARYANA
JAMMU & KASHMIR
HIMACHAL
REGIONAL BRIEFS
NATION
OPINIONS
MAILBAG
BUSINESS
SPORTS
WORLD

Thursday, September 9, 2004, Chandigarh, India
Updated at 3:00 am (IST)

India, Pakistan to continue composite dialogue process
New Delhi, September 8
India and Pakistan today decided to continue the composite dialogue process and took a number of decisions which indicated an important shift in Pakistan's hitherto policy of "Kashmir-first-trade-later".
Punjab page: Pak not abetting terrorism, says Pervez's adviser


Editorial: Step by step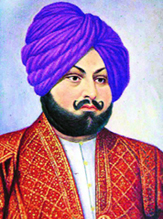 Along with millions of readers and admirers, The Tribune pays homage to its founder, Sardar Dyal Singh Majithia, who passed into eternity on this day 106 years ago (A special article on Opinions page).

EDUCATION
JOBS & CAREERS
HEALTH & FITNESS
FORUM
SCIENCE & TECHNOLOGY
SPORTS
WOMEN
TRIBUNE CLASSIFIEDS
Fresh charges to be framed in
Best Bakery case
Mumbai, September 8
The special court set up in Mumbai to hear the Best Bakery massacre case said today that it would frame charges afresh on September 15. Judge Abhay Thipsay of the court directed prosecutor P.R. Vakil to submit the drafts of charges against all 21 accused by September 13.

Complainants drop Ponty Chadha's name
Punjab liquor auction case
New Delhi, September 8
The Supreme Court was today informed by the unsuccessful bidders in the Punjab's liquor vends auction case that the name of contractor Ponty Chadha, who was accused of "manipulating" the bids through some "benami" vendors, has been deleted by them from the list of respondents.
CBI to probe sleeper scam
Patna, September 8
Railway Minister Lalu Prasad today asked the CBI to probe the Rs 200 crore sleeper purchase scam with "full speed and honesty" to bring the culprits to justice without much delay.

Soren released from jail
Jamtara, September 8
Jharkhand Mukti Morcha supremo Shibu Soren was today released on bail in connection with the 1974 Giridh twin murder case.

Govt clarifies stand on inclusion of
foreign experts
New Delhi, September 8
Within hours of the stringent criticism from the Left parties on the UPA government's move to include experts from the World Bank and others in the plan panel, the Planning Commission said the views of the "outside bodies" would be used only for consultation and had nothing to do with the working of the organisation.

CAST YOUR VOTE
Should there be a fresh probe into the Tehelka case?

In Forum Today
BRIDES WANTED
GROOMS WANTED
OTHERS
HOW TO PLACE ADVTS
THE TRIBUNE MAGAZINES
On Sundays

On Saturdays

Sikhs in Punjab have lower literacy rate than
in other states
New Delhi, September 8
Sikhs could well be happy about having a better literacy rate than the majority community, but surprisingly in Punjab, the state with maximum number of Sikhs (over 70 per cent) the literacy rate of this community is lower than the national average of literacy among Sikhs.
Nation page: Muslim growth rate amplified in census

Editorial: Nonsense and census
Concern over low percentage of
Sikh children
Chandigarh, September 8
Low fertility, as enunciated by proportion of children (0-6 years) to the total population, and the wide disparity of the absolute and relative number of male and female population in society, has prompted the National Commission for Minorities to constitute a cell of demographic experts for talking to leaders of various religious communities, intellectuals, officials and others to analyse the latest census report on religion.
Punjab page:
Maan blames 'genocide' for population trend



Sports page:
Indian stars shine at ICC Awards night
London, September 8
Stylish batsman Rahul Dravid was the toast of the inaugural ICC Awards with three glittering picks, including the most coveted Player of the Year award, at the Alexandra Palace here.
In video (28k, 56k)
It's unbelievable, says Dravid
Rahul Dravid kisses one of his two awards for Player of the Year and Test Player of the Year at the ICC awards ceremony at Alexander Palace in London on Tuesday. Irfan Pathan was awarded the Emerging Player of the Year award.
— AP/PTI photo

ILLEGAL CREMATIONS
Natwar, Kasuri promise visa-free travel to journalists
September 8, 2004

PM rules out China-type talks on Kashmir
September 7, 2004
Natwar, Kasuri hold positive talks
September 6, 2004
Ordinance soon to repeal POTA
September 5, 2004
150 die as commandos storm school
September 4, 2004
Fresh probe into Godhra fire ordered
September 3, 2004
PM's package for Amritsar
September 2, 2004
Politics overshadows celebrations
September 1, 2004
Sifti da ghar overflows
August 31, 2004
Pakistan says no to extradition treaty
August 30, 2004
Arunachal CM joins Cong with Cabinet
August 29, 2004
Bomb attacks, arson in Maharashtra; 18 hurt
August 28, 2004