PUNJAB

HARYANA

JAMMU & KASHMIR

HIMACHAL

REGIONAL BRIEFS

NATION

OPINIONS

MAILBAG

BUSINESS

SPORTS

WORLD

Sunday, September 11, 2005, Chandigarh, India
Updated at 3:00 am (IST)

Sarabjit involved in blasts, says Musharraf
Islamabad, September 10
Pakistan President Pervez Musharraf has said that Sarabjit Singh was involved in the bomb blasts that killed 14 persons across three Pakistani cities in 1990. He said he was looking into the legal aspect of the case.



Madan Lal Khurana and Atal Bihari Vajpayee
Khurana meets Vajpayee
New Delhi, September 10
The stalemate over the Khurana issue continued for the third consecutive day today despite the expelled leader expressing his willingness to work under Mr L.K. Advani, saying that his problem was only with the younger set of leaders trying to replace the old guard. According to party insiders, an amicable solution could not be worked out today.
CAST YOUR VOTE
Shouldn't the ultimatum given by sarvkhap and sarvjatiya panchayat be ignored by the Haryana Government?



LUDHIANA

JALANDHAR

AMRITSAR

DELHI

FORUM

EDUCATION

JOBS & CAREERS

HEALTH & FITNESS

SCIENCE & TECHNOLOGY

SPORTS

SOCIETY

TRIBUNE CLASSIFIEDS

BRIDES WANTED

GROOMS WANTED

OTHERS

HOW TO PLACE ADVTS
In Society today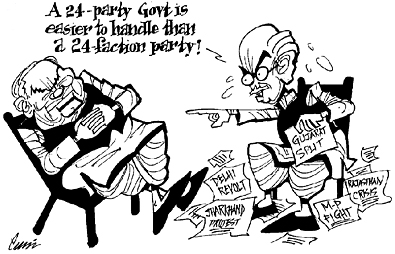 Srinagar, September 10
Five soldiers were killed and seven others injured when militants ambushed a Jammu-bound convoy of the Army at Awantipora, 30 km from here, on the Srinagar- Jammu national highway.
Injured victims of the militant attack in Darmari village in Udhampur district in a hospital in Jammu on Saturday. — PTI photo
| | |
| --- | --- |
| | |
| | HARYANA: CBI team visits Balmiki Colony |
| | HIMACHAL: BSNL, Airtel told to remove towers |
| | |
| | |
| | CHANDIGARH: Brother talks on phone to Makhan Singh |
| | LUDHIANA: Councillor alleges fogging scam |
| | OPINIONS: Punjab the 'best' state! — Really? |
| | BUSINESS: PM's US visit to decide fate of Indo-Iran gas pipeline |
| | |
| | |
| | |
QUOTE OF THE DAY
I have to take a decision in a deliberate manner. Otherwise I am a man who shows mercy.
— Pervez Musharraf

THE TRIBUNE MAGAZINES
On Sundays

On Saturdays

UK rafters help retrieve Army man's body
Kharo (Kinnaur), September 10
Four British rafters who had come on a private tour to Himachal Pradesh and were at Rampur in Shimla district helped the Army in retrieving the body of a jawan from the Sutlej that was spotted near Tanglik yesterday.

Chandigarh page:


No hope of any survivor from Sutlej, says GOC-in-C


Relief for next of kin
PM's US visit to decide fate of Indo-Iran gas pipeline
New Delhi, September 10
Petroleum ministry officials of India and Pakistan are holding hectic parleys for finalising the Iran-India gas pipeline, estimated to cost $ 7 to 8 billion, to pass through Islamabad and ink the tripartite framework agreement by December. (Details on Business page)
Rain claims 3 lives in Mumbai
Mumbai, September 10
Three persons, including a woman and a child, were killed and nine injured in separate incidents as heavy rain lashed the metropolis through the night, forcing evacuation of over 500 families from low-lying areas.


In video (28k, 56k)
Paddy, cotton crops survive heavy rainfall
Chandigarh, September 10
While the heavy rain in various parts of Punjab in the past 48 hours has provided the much sought after relief to the Punjab State Electricity Board, which was grappling with the problem of power crisis for the past several days, fortunately, it has not caused any noticeable damage to the kharif crop anywhere in the state.

E - Revolution 2005:
A Two-day IT conclave

Assembly Elections - 2005

Turbans

Chandigarh is 50

EARLIER FEATURES
EC pulls up Hooda for violating code
September 10, 2005

42 Army men feared dead in bridge collapse
September 9, 2005

India, EU to intensify fight against terror
September 8, 2005
Petrol dearer by Rs 3
September 7, 2005
Centre, Hurriyat agree to end all forms of violence
September 6, 2005
EC raps Haryana on code violation
September 5, 2005
Four-phase Bihar poll from Oct 18
September 4, 2005
Armed men wreak havoc in Panchkula
September 3, 2005
None will be spared: CM
September 2, 2005
843 die in stampede
September 1, 2005