THAI flavour

Bangkok has now emerged as the front-line destination for tourists in Asia. The number of Indians headed for Thailand has been growing at such a fast pace that airlines have increased the number of flights to this choice tourist spot that spells urban excitement. Donald Banerjee reports after a recent visit.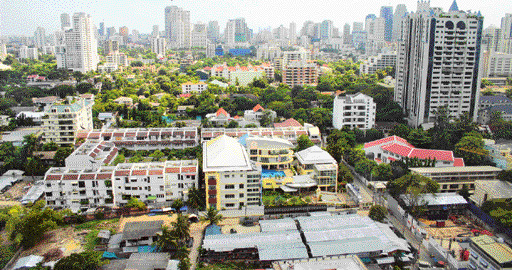 Curry falls out of favour
The UK is facing a major shortage of trained and experienced chefs
K.D.L. Khan
"CURRY" was once a generic name in Britain for any Indian dish. But with nearly 10,000 Indian restaurants serving two million curry meals a week, it has been incorporated into the British tradition with a "curry" meal being a weekly ritual for British families. The industry in Britain is worth more than `A32.5 billion a year.

Now darshan on the Net
Vinaya Kumar
OF the thousands of Vinayak temples in India, the Siddhivinayak temple in the Prabhadevi area of Mumbai is the richest. Its annual income from all sources is estimated to be Rs 15 crore. But then, Lord Ganesha has been always a crowd-puller, and with Mumbaikars being the most ardent worshippers of the elephant-faced God in India, the wealth is to be expected.

Lyrics lie in the eye of the beholder
Surendra Miglani recounts occasions when lyrics in Hindi movies have been completely out of tune with the visuals because of a lack of coordination between the director and the lyricists
Lyricists in Hindi films often have to write songs without really studying the situation in the movie. When directors and editors fail to notice or overlook such slips, cine-goers end up getting (unintended) comic relief. Take the case of David Dhawan's Hero No. 1 in which Govinda sings to the fatherless heroine (Karisma Kapoor): Main tujhko bhaga laya hoon tere ghar se, o tere baap ke dar se!

Moving essay of images
The German Film Week in Mumbai was an opportunity to see some good, prize-winning movies. A report by Ervell E. Menezes
ANY conversation on German cinema always conjures up names like Fassbinder, Schloendorf, Herzog and Wenders of the New Wave of the 1970s. As in any country, " times there are a changing" and today's divas are Twyker (Run Lola Run), Link (Beyond Silence) and Akin (Head On).

Smart selling
Marketing and publicity campaigns of Bollywood films have come of age. As television promos and larger-than-life posters become pass`E9, Bollywood laps up the latest buzzword innovation. "The audience of today have a limited attention span. A movie has to make an impact on the first day of release.