'Conservative' dwellings!
Energy efficient building can cut down your monthly power bill, says
Manoj Kumar. With the increasing power cuts every summer and rising cost of energy, the builders and house owners have been forced across the world to think about ways and means how to bring down power consumption in the residential and commercial buildings.

Mixed-use malls in vogue
The "late entrants" in the three Ms of urban culture — malls, multiplexes and multi-cuisine food courts — are now shifting to mixed –use malls to look different. Malls will not just be restricted to having retail spaces or food and beverage zones.


Baddi flats go abegging
People either can't afford it or don't prefer it, says Jagmeet Y. Ghuman. Housing flats being constructed in and around Baddi have failed to get the desired booking response. Interestingly, the ad blitzkrieg done by the realtors to generate demand in Baddi has, in fact, resulted in a whimper.

As many as 6,400 flats are being constructed at Baddi by private realtors and the booking response is poor. — Photo by Parvesh Chauhan
Builders merge architecture & Vaastu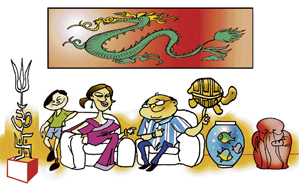 'Superstition' and customer demand combines in Ludhiana, says
Shveta Pathak
In their efforts towards 'assured happiness', builders and owners of houses and buildings, are not just getting Vaastu conscious but are combining various methods in construction and designing. The latest trend is going in for traditional Vaastu, along with Feng Shui, Pyramidology and Chakra Vaastu together.
GREEN HOUSE
Water accumulation can kill plants
Management in monsoon is as important as rearing, says Satish Narula
Now when the monsoon is round the corner, it is time to think about plant management.
Commercial realty to be buoyant in Delhi
Real estate prices for commercial space in Capital are likely to remain buoyant in the short term while realty prices in Mumbai are expected to witness a dip in medium term, global consulting firm has said.
ESTATE TALK


Uppal's ties up with Israeli firm
Uppal Group, a real estate major with a turnover of Rs 1,138 million with networth of Rs 973 million, has tied up with Aviv- Ocif Investment & Development Ltd, an Israeli firm. Talking to The Tribune, Mr Rumneek Bawa, Director & CEO, Uppal Housing Projects Limited, said the tie up with Aviv-Ocif Group is a 50:50 joint venture.
TAX tips
Gains on agricultural land taxable if it is capital asset
Q. I am a senior citizen of 81 years and a retired officer from State Bank of Patiala. My annual income is on account of interest on the Senior Citizen Savings Scheme and LIC (Rs.1,50,000) M.I.S. of post office and term deposit with the SBoP. I am not getting any pension but a monthly ex -gratia relief of Rs.300 linked with DA (present amount Rs 1,307) from the State Bank of Patiala.