CHANDIGARH

LUDHIANA

JALANDHAR
New

DELHI

HIMACHAL PLUS
New

AMRITSAR PLUS

LIFESTYLE
New

BRIDES WANTED

GROOMS WANTED

OTHERS

HOW TO PLACE ADVTS

Non-bailable warrants against Bina Ramani
New Delhi, September 4
A Delhi court today issued non-bailable warrants against socialite Bina Ramani in case of cheating for acquiring a licence to run a bar at Mehrauli in South Delhi. Additional Chief Metropolitan Magistrate Kamini Lau issued the warrants to be executed on or before September 15.
Kashmir valley remains cut off
Srinagar, September 4
Though there was a respite in downpour across the valley, the flood situation, with rivers flowing above the danger mark, continued to be grim in the Kashmir valley for the fourth consecutive day today.



J&K page: Floods damage water treatment plant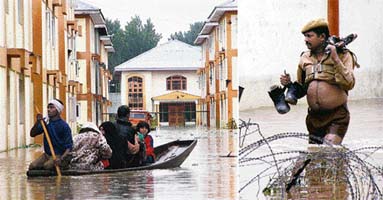 A boat carries a flood-hit family on the streets of Srinagar and (right) a CRPF jawan wades through water after floods hit the base camp in Bemina area of Srinagar on Monday. — Tribune photos by Amin War
FORUM
Forum provides our readers with an opportunity to express their views on some of the vital issues facing the country. The new question being posed is:
What should be done to stop tainted politicians from fighting elections?
Readers are invited to send their letters, not more than 150 words, to:
The Editor-in-Chief, The Tribune, Sector 29-C, Chandigarh, with 'Forum' superscribed on the envelope.
The answers can also be
e-mailed to:
forum@tribunemail.com

H.K. Dua
Editor-in-Chief
QUOTE
In fact, I still see myself as a teacher of sorts. I have strayed into politics by accident, but I had become a teacher by choice.
— Manmohan Singh
Pak activities along LoC discussed
New Delhi, September 4
The Cabinet Committee on Security discussed the activities of Pakistan Army along the Line of Control at its meeting on September 2. The meeting, presided over by Prime Minister Manmohan Singh, is understood to have reviewed the Pakistani move of construction of concrete bunkers and reinforcement of manpower in certain sensitive sectors along the LoC.
Captain, two jawans killed in encounter
Baramulla, September 4
A Captain and two jawans were killed in an encounter at Attamulla village in the Bandipora area, official sources said. The sources said acting on a tip-off troops of 57 Rashtriya Rifles launched a search operation last evening at Attamulla village. The militants attacked the search party with automatic weapons and grenades and in the ensuing encounter a Captain and 2 jawans were killed.
— UNI
Kerala minister quits
Thiruvananthapuram, September 4
Facing allegations of misbehaviour towards a woman passenger on an aircraft, Kerala Public Works Minister P.J. Joseph today resigned from the LDF ministry after the preliminary probe by a senior police officer finding that the woman's charge could not ruled out. — PTI
Officers of oil companies defer strike
by 3 weeks
New Delhi, September 4
Officers of state-owned oil firms tonight suspended for three weeks, their plan to launch an indefinite strike from Tuesday claiming that a categorical assurance was given by the government to consider their demands relating to higher wages.


A Tribune Special
Free treatment up to Rs 1 lakh for 7 lakh poor families
Chandigarh, September 4
Seven lakh poor families in the urban and rural areas will get free treatment up to Rs 1 lakh in hospitals empanelled by the Punjab Government. The government will pay the premium of the health insurance cover that will be provided to these families.

HOROSCOPE
In Education Tribune today

E - Revolution 2005:
A Two-day IT conclave

Assembly Elections - 2005

Turbans

Chandigarh is 50

EARLIER FEATURES
ED notices to Natwar, Jagat Singh
September 4, 2006
Beigh quits as J&K Deputy CM
September 3, 2006
Bugti buried in secrecy
September 2, 2006
Baluchistan heading for federal rule
September 1, 2006
Baluchistan cut off
August 31, 2006
Rail link to Quetta cut
August 30, 2006
Bugti killing unfortunate
August 29, 2006
Baloch leader Bugti killed
August 28, 2006
Scientists voice fears over nuclear deal
August 27, 2006
Quota Bill introduced in Lok Sabha
August 26, 2006