ADVERTISEMENT
ADVERTISEMENT

CHANDIGARH

LUDHIANA

JALANDHAR
New

DELHI

HIMACHAL PLUS
New

AMRITSAR PLUS

LIFESTYLE
New

BRIDES WANTED

GROOMS WANTED

OTHERS

HOW TO PLACE ADVTS
FORUM
The new question being posed is:
What should be done to stop tainted politicians from fighting elections?
Readers are invited to send their letters, not more than 150 words, to:
The Editor-in-Chief, The Tribune, Sector 29-C, Chandigarh, with 'Forum' superscribed on the envelope.
The answers can also be
e-mailed to:
forum@tribunemail.com

H.K. Dua
Editor-in-Chief
War room leak: CBI attaches Shankaran's property
New Delhi, September 19
The CBI today attached property and bank accounts of Ravi Shankaran, one of the prime accused in the naval war room leak case and a kin of Navy chief Arun Prakash, for his failure to appear before it for questioning.
All set for private varsities in Haryana
Chandigarh, September 19
The decks have almost been cleared for setting up private universities in Haryana. The state Vidhan Sabha today passed the Haryana Private Universities Bill, 2006, by voice vote after Indian National Lok Dal members walked out of the House, saying that the law would encourage the "commercialisation of education".
SAD, BJP MLAs protest outside Assembly
Seek CBI probe into Ludhiana City Centre issue
Chandigarh, September 19
The suspended SAD and BJP MLAs, who comprise the Opposition, today staged a protest outside the Punjab Assembly demanding a CBI probe into the Ludhiana City Centre issue even as the Treasury Benches discussed important matters inside the House.
SAD and BJP MLAs protest outside the Punjab Vidhan Sabha against the alleged Ludhiana City Centre scam in Chandigarh on Tuesday.
— Tribune photo by Parvesh Chauhan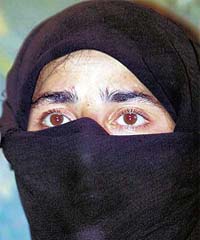 Roofi Jan, a Kashmiri girl whose name figured in the Handwara sex scandal, talks to media persons in Srinagar on Tuesday. She claimed in front of the media that she saved her honour and raised the alarm which led to the busting of the racket. — PTI
Vinay Sakhuja new Dean of PGI
New Delhi, September 19
The institute body of the PGI, the apex decision-making body, today approved the appointment of Dr Vinay Sakhuja, Head of the Department of Nephrology, as Dean of the PGI and Dr Amod Gupta, Head of the Dept. of Opthalmology as Sub Dean.
Punjab Govt offers to shift Badal's trial
New Delhi, September 19
The Punjab Government today came out strongly to justify Mr Parkash Singh Badal's prosecution and even offered to shift the trial outside the state.

India: The Tasks Ahead

SPECIAL SUPPLEMENT

125TH ANNIVERSARY CELEBRATIONS,
INAUGURAL SESSION
In Health & Fitness today

In Himachal Plus today

E - Revolution 2005:
A Two-day IT conclave

Assembly Elections - 2005

Turbans

Chandigarh is 50

EARLIER FEATURES
HOROSCOPE

Will compensation bring back her 43 years?
Varanasi, September 18
Rupees 10 lakh have been demanded as compensation for 73-year-old Sarla for being kept for 43 years at the Varanasi mental hospital. The designated human rights court of Varanasi will hear her case for release, rehabilitation and compensation tomorrow.


A Tribune Investigation — Govt as landgrabber-I
Divested of land, farmers face bleak future
Amritsar, September 19
For an 80-year-old, Gurcharan Singh is quite healthy, with ailments that accompany the ageing process not bothering him much. However, for the past few months, sleep has eluded him.
Rs 211 cr relief for farmers


WHAT ABOUT ME? Gurcharan Singh points to his 1-acre field on the Jalandhar- Amritsar highway.
— Photo by writer
Pak, India to jointly fight terror: PM
September 19, 2006
NAM endorses India's stand on terror
September 18, 2006
India, Pakistan to resume talks
September 17, 2006
42 SAD, BJP MLAs suspended
September 16, 2006
Munda skips test, quits
September 15, 2006
Arjun Munda faces acid test today
September 14, 2006
Narrow escape for Punjab CM
September 13, 2006
SC refuses to restrain Speaker
September 12, 2006
3 detained for blasts in Malegaon
September 11, 2006
Malegaon buries its dead
September 10, 2006